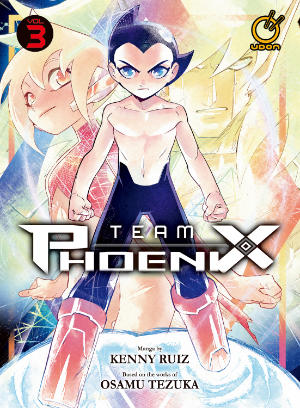 UDON Entertainment announced that they have entered into a partnership with Tezuka Productions and Akita Shoten to publish the English Edition of Team Phoenix, the hit manga series! Created by Kenny Ruiz and based on the characters of Osamu Tezuka,this galaxy-spanning epic sees a heroic team-up to save all mankind.
Osamu Tezuka's greatest characters unite!! The Robot Alliance dominates 90 percent of the universe, but one of the brave biologicks (organic organisms) — Sapphire, Princess Knight of Silverland — forms a band of space pirates to strike back against injustice!! Joining her in her rebellion are Leo of the planet Jungaly, and Sharaku, the Three-Eyed One.
Volume two kicks off when Sapphire and her space pirates board a mysterious vessel, panic breaks out over a parasitic infection!! Who better to confront this threat than cyber-surgeon, Black Jack, who sets out to save the crew with his unmatched scalpel skills. Can the heroes of Team Phoenix pull together a strategy to rescue the so-called Patient Alpha from the space citadel.
In volume three, Team Phoenix has rescued Patient Alpha from the space citadel, and he turns out to be none other than history's mightiest robot —Astro Boy— thought to have perished in the great war!! It's up to Black Jack to operate and help rouse him from his coma, which involves sending FIRE into the robot's subconscious mind!! Meanwhile, it's a clash of the titans when the Robot Alliance's supreme commander, ATLAS, goes head to head with the golden warrior, MAGMA!!
Team Phoenix Volume 1 will release in November 2023 as a 200 page black and white manga for U.S.$13.99. Further volumes will be released every two months.