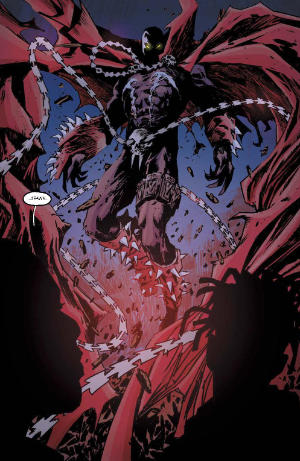 The Eisner Award nominated Killadelphia from writer Rodney Barnes (American Gods, HBO's Winning Time, and the record-breaking new Star Wars: The Mandalorian comic book series) and collaborator Jason Shawn Alexander, the artist who redefined Todd McFarlane's legendary Spawn for a whole new generation, sees the same character make a surprise appearance in the Killadelphia universe!
Series creator Rodney Barnes says "It's an honor to have one of the greatest characters ever created to visit our Killa-verse! I cannot thank the great Todd McFarlane for lending us his baby for a spell. We're committed to do him justice."
Jason Shawn Alexander adds "I'm getting to draw the coolest stuff of my career. Spawn entering the Killaverse makes perfect sense as the series has taken on more ethereal and magic elements in the recent arcs. Fans are in for absolute horror insanity!"
The Killadelphia series follows a small-town beat cop who returns home to bury his murdered father, revered Philadelphia detective James Sangster Sr. What he doesn't anticipate is digging up a mystery that will lead him down a path of horrors and shake his beliefs to their core. The city that was once the symbol of liberty and freedom has fallen prey to corruption, poverty, unemployment, brutality… and vampires. Now, it's up to Jimmy and an unexpected companion to stop long-thought-dead president of the United States John Adams from building an undead army and staging a bloody new American revolution.
In this latest arc, villains have become heroes, with the line between good and evil blurred beyond recognition. Philadelphia is ravaged by the war between Heaven and Hell, and our heroes are DEAD…But from the ashes of despair comes the spark of hope that will set up a bold new direction for this series…and things will never be the same. The sold-out, Eisner Award-nominated horror series reaches the end of this arc with even more shocking surprises! It all starts here.