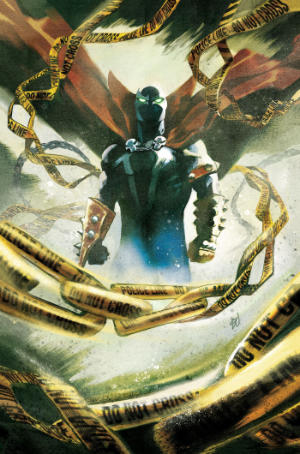 After a successful 2022 campaign, Todd McFarlane is showing that his record-breaking character SPAWN is far from slowing down with the release of a NEW mini-series.
Spawn: Unwanted Violence is a standalone two-part series written by Todd McFarlane with impressive artwork by Mike Del Mundo. Vol. 1 of the series was released on January 11th being met with high fan praise.
McFarlane touches on several social justice issues in the series as Spawn finds himself in the middle of a peaceful protest, that is beginning to escalate. Vol. 1 ends with a shocking escalation of events that forces Spawn to take matters into his own hands.
Vol. 2 wastes no time jumping back into the the story as Simmons witnesses the social injustice that this country is facing, and is forced to take action.
"As the force used by the police against Al Simmons continues to escalate to surprising levels, the Freak gets closer to discovering the information he was sent to find."
The visually-stunning art by Del Mundo perfectly encapsulates the dark and disillusioned story that sees Spawn thrust into the forefront of what constitutes good and evil.
SPAWN has been the hottest current title in recent memory, usurping Marvel and DC to become the best-selling comic of the lat TWO YEARS and has continued to live up to high expectations. McFarlane and Del Mundo are not letting off the gas in this new storyline that will be sure to capture audiences attention with captivating artwork and fresh storylines.
Spawn: Unwanted Violence Vol. 2 will be available on February 22 at comic book shops and on digital platforms, including Amazon Kindle, Apple Books, and Google Play in February 2023.