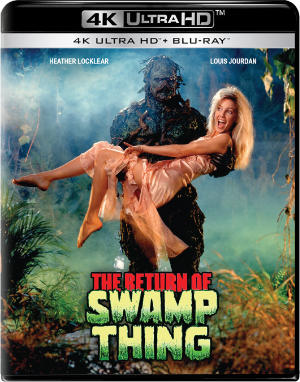 In time to commemorate its landmark 35th anniversary, everyone's favorite muck-encrusted plant man is back in a special edition of THE RETURN OF SWAMP THING featuring a stunning new 4K restoration! The must-see sequel to the original cult classic based on the award-winning DC Comics series has been restored from the original interpositive with Dolby Vision HDR Mastering for an optimal viewing experience. On February 7, 2023, Lightyear Entertainment will deliver the fan-favorite genre film on a extras-laden, two-disc 4K Ultra HD & Blu-ray set, and via digital outlets for purchase, with rental to follow.
In THE RETURN OF SWAMP THING, Swampy falls for sexy Abigail Arcane (Heather Locklear, Melrose Place, Dynasty), stepdaughter to the world's maddest scientist, Dr. Anton Arcane (Louis Jourdan, Swamp Thing, Gigi, Octopussy). Abby owns a plant store, and is more comfortable talking to her plants than to men in the local singles bar. However, when she meets the half human/half plant, she immediately sees beyond the horror of his physical form and falls in love with Dr. Alec Holland, the man behind the muck, who also happens to be busy saving her from her father's nefarious and murderous plans.
From Michael E. Uslan (originator and executive producer of the Batman film franchise) and legendary cult film director Jim Wynorski (Chopping Mall, Not of This Earth), THE RETURN OF SWAMP THING also stars Sarah Douglas (Superman II, Conan The Destroyer) with Dick Durock (Raw Deal, Stand By Me) returning as Swamp Thing. Filmed well before the era of CGI, the film also featured Swampy's elaborate costume and mutant creatures designed by legendary Academy Award nominee, Carl Fullerton.
Befitting the special edition release, the 4K Ultra HD & Blu-ray set features two brand new special features: a Reflections on Swamp Thing 35 Years Later interview with producer Michael E. Uslan and the RiffTrax music video for Your Ever-Lovin' Swamp Thing by The RiffTones.
In addition to the home entertainment releases, Lightyear will also be releasing the RiffTrax digital single and music video for Your Ever-Lovin' Swamp Thing worldwide on Lightyear Records through Virgin/UMG. The hilarious ode to Swampy's romance with Abby was originally composed and performed as part of the RiffTrax skewering of THE RETURN OF SWAMP THING in 700 theaters. The toe-tapping bluegrass ditty by Kevin Murphy and The RiffTones (featuring Brian Murphy) will be released on February 10 in time for Valentine's Day.
BONUS FEATURES
In addition to the brand-new special features, additional bonus programming from the original Blu-ray release includes:
Audio commentary from director Jim Wynorski, composer Chuck Cirino and editor Leslie Rosenthal (2018)
Audio commentary from director Jim Wynorski (2003)
Interviews with director Jim Wynorski, editor Leslie Rosenthal, composer Chuck Cirino, and Lightyear Entertainment executive Arnie Holland
Original Theatrical Trailer
6 Promotional TV Clips
2 TV Spots
2 Greenpeace Public Service Announcements
1989 Promo Reel
Photo Gallery (accompanied by Chuck Cirino's film score)