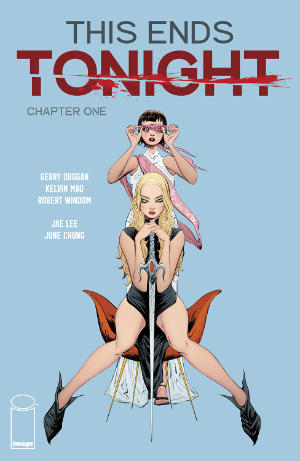 Fan favorites Gerry Duggan (currently writing X-Men and Iron Man) and Jae Lee (the Eisner-winning artist from Inhumans and Hellshock) team up with co-writers Kelvin Mao and Robert Windom, alongside colorist June Chung, for an action-packed three-issue limited miniseries titled, This Ends Tonight. This trilogy of three interconnected tales will launch this July from Image Comics.
This Ends Tonight #1 follows two sisters as they fight their way across Vegas in a savage race to save their lives.
Each issue is a story of violence and mayhem set in Las Vegas.
"I've been a fan of Jae's since Inhumans back in the '90s and a fan of Robert's since he collaborated with Jae on the terrific series Seven Sons at Image last year," said Duggan. "It's my privilege to be a part of This Ends Tonight beginning this summer. You're all in for a ride."
This Ends Tonight #1 will be available at comic book shops on Wednesday, July 26. This Ends Tonight will also be available across many digital platforms, including Amazon Kindle, Apple Books, and Google Play.