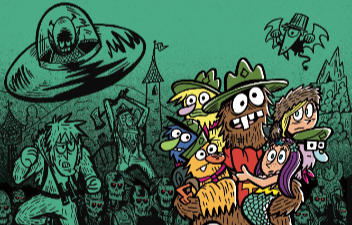 Z2 Comics introduces a new original creation from the art director behind Yo Gabba Gabba and former Aquabats member Parker Jacobs on sale today directly from Z2 Comics! In addition to today's release onlline, Z2 will release this new graphic novel in comic shops as well as independent record stores just in time for Free Comic Book Day this August!
Parker Jacobs says "What a rad opportunity to have all of the cryptid characters from the Goon Holler picture books come together in the graphic novel with accompanying soundtrack format. This way, it's more universal and can be enjoyed by anyone. Kids, parents, aliens, bigfeet, giants, whatever!"
From Parker Jacobs (Yo Gabba Gabba!) comes this tale of Toobaloth, an unlikely Bigfoot who gets roped into leading a troop of Goon scouts on a campout. On their way, they discover their beloved home, Goon Holler, might be under attack by aliens! Full of wacky characters fun adventures and great music, with an original soundtrack for music and comics fans of any age!
Z2 cofounder Sridhar Reddy says "Goon Holler is, for us, that welcome breath of fresh air. It's been a pretty tough time for the world and we're so glad we can welcome a story that is bright, fun and full of pure joy. While the book is meant for young readers it has also managed to melt our cold adult hearts; the music is super smart and you can't help but get up and move. Parker (Jacobs) has given us the absolute perfect tonic for our enclosed, sedentary lives and opened up a new world full of sights, sounds and the real meaning of community and friendship. Goon Holler just might be the most timely book we've ever published."
This fun new hardcover will be released in comic shops on August 4, 2021.