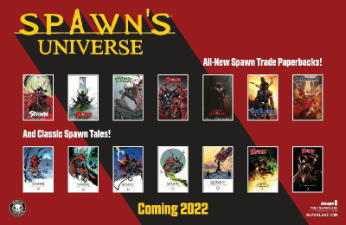 The world of SPAWN exploded in 2021 with four new record-breaking titles and is now set to expand even further in 2022. Todd McFarlane is announcing an aggressive brand-new Spawn Trade Paperback and Hardcover books program, bringing fans new collections of past Spawn stories from the last 30 years and, for the very first time, collections of the four new record-breaking titles from 2021. 
Todd McFarlane Productions will release fifteen new comic trade paperbacks and hardcover collections this year, with more expansions coming in 2023.
Collections and trade paperbacks will include never-before-released titles such as King Spawn (the #1 selling comic issue in the industry in 2021) and The Scorched and Gunslinger Spawn (the #3 selling comic issue in 2021).
To celebrate the milestone achievement of SPAWN's 30th anniversary and IMAGE COMICS 30th-year celebration, McFarlane will release Spawn trade paperback and hardcover collections never previously released together. A limited quantity of SPAWN DELUXE HARDCOVER VOL.5 will be personally signed by McFarlane himself.
"With the resurgence of the SPAWN character and expansion of three new titles in his shared universe, there has been a loud demand for me to create a scheduled release of reprinting some of those stories into a range of collected editions," said McFarlane, Image president, and Spawn Creator. "More importantly, I believe that creating a steady schedule that both customers and retailers can depend on will only help serve this new pent-up demand. As a celebration of Spawn's 30th year of publication (along with Image Comics' same anniversary), we will be printing some never-seen-before collections. All this as I also move towards the ultimate goal of getting the Spawn franchise off the ground in Hollywood… which will only stoke the need for these types of editions. 2021 was a massive record-setting year for the Spawn Universe, and I plan to continue to deliver high-quality stories and products within the SPAWN UNIVERSE that are reasonably priced."
Below is a list of the upcoming releases:
 
SPAWN ORIGINS, VOL. 21 TP
SPAWN: THE RECORD-BREAKER
KING SPAWN, VOL. 1
SPAWN COMPENDIUM VOL. 3
SPAWN: AFTERMATH
GUNSLINGER SPAWN VOL. 1
SPAWN ORIGINS HARDCOVER VOL. 11
SPAWN ORIGINS, VOL. 22 TP
SPAWN: OMEGA
 SPAWN ORIGINS, VOL. 23 TP
THE SCORCHED, VOL. 1
SPAWN'S UNIVERSE Collection 
SPAWN DELUXE HARDCOVER VOL.5
SPAWN DELUXE HARDCOVER VOL.5 SIGNED BY TODD MCFARLANE
SPAWN COMPENDIUM VOL.4
SPAWN ORIGINS, VOL. 24 TP