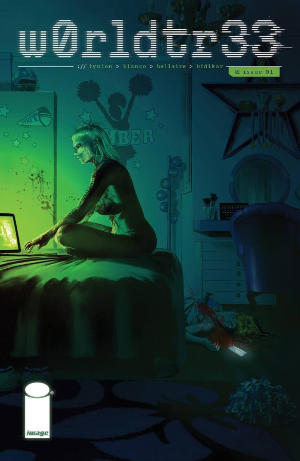 Image Comics has changed the release date for the highly anticipated series W0RLDTR33 #1 by Eisner Award winning writer James Tynion IV (The Department of Truth, The Nice House on the Lake, Something is Killing the Children) and Razorblades collaborator artist Fernando Blanco (Detective Comics, Catwoman). This premier issue will now be slated to land on shelves at comic shops Wednesday, April 26, due to an unforeseen printer error. Image will be putting out an alert to comic shop retailers and is recalling the misprinted copies.
"W0RLDTR33 is a book that has lived inside my head for a very long time, and it's incredibly important to the whole creative team and everyone at Image that we put our best foot forward for the first issue, said Tynion IV. "Due to circumstances outside of our control, the first issue didn't print at the quality we expected, so we're delaying the first issue to make sure retailers have copies they feel confident about putting in the hands of readers. The entire team could not be more grateful for the tremendous support the fans and comic retailer community have put behind this title, making it one of my highest selling creator-owned launches. I promise, we're doing what we can to get you a title you'll be able to sell for years to come."
For fans who still have not requested W0RLDTR33 be added to their pull-list are advised to contact their local comic shop as soon as possible in order to reserve a copy ahead of the anticipated rush.
First teased in the pages of the Image! 30th Anniversary Anthology #8, W0RLDTR33kicks off with an unimaginable atrocity in the present day that has roots back in 1999, when Gabriel, Amanda, Liam, Yoshi, and Darren discovered what they dubbed the Undernet—a secret architecture beneath the internet. They charted their exploration of the Undernet on a private message board called W0rldtr33. Then they lost control…and unleashed unimaginable horrors.
W0RLDTR33 #1 will be available at comic book shops on Wednesday, April 26. W0RLDTR33 will also be available across many digital platforms, including Amazon Kindle, Apple Books, and Google Play.