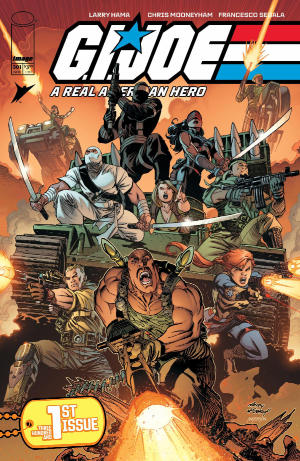 G.I. Joe: A Real American Hero, one of the longest running non-superhero comics of all time, will return in November with issue #301. Legendary series writer Larry Hama (Marvel's Wolverine) continues his record-breaking run on the series, joined by fan-favorite artist Chris Mooneyham (DC's Nightwing, Sgt. Rock and the Unknown Soldier) and colorist Francesco Segala (Mighty Morphin Power Rangers) breathing new life into the iconic characters, and with covers by the incomparable Andy Kubert (Marvel's X-Men).
A new era for G.I. Joe begins in G.I. Joe: A Real American Hero #301 with this jumping on point for new readers as your favorite characters – Duke, Scarlett, Roadblock, Storm Shadow, Cobra Commander, Serpentor and more – are back for new battles, new friends, new enemies and…THE RETURN OF THE ORIGINAL SNAKE-EYES!
Each issue of G.I. Joe: A Real American Hero will also feature an open-to-order variant cover with a black and white version of Kubert's stunning main cover.
"I am delighted to be continuing the saga of G.I. Joe with the good folks at Skybound and totally amped to be taking the G.I. Joe team to issue #301 and beyond," said Larry Hama. "Little did I know back in 1982 that I would be associated with the Real American Hero for over 40 years. My thanks to the whole crew at Skybound for allowing me to continue to chronicle the exploits of characters who have become like a family to me."
"I'm very excited to be working on such an enduring property with original writer and comics legend Larry Hama, not to mention being able to do it at Skybound," said Chris Mooneyham. "I think Skybound is going to be able to offer G.I. Joe storytelling opportunities like never before, and I'm honored to be part of it. Yo Joe!"
"Early on in my career, I was asked to draw a few G.I. Joe covers for Marvel Comics," said Andy Kubert. "Having had the toys when I was a kid, I thought 'Great! This is going to be a blast!' and it was. Fast forward all these years later and here I am getting to play with G.I. Joe again and still having a blast!"
The return of G.I. Joe: A Real American Hero continues the historic partnership between Skybound and Hasbro that was announced yesterday, seeing the return of the G.I. Joe franchise to comics as overseen by visionary creator Robert Kirkman (Invincible, The Walking Dead).
"One of the main goals of Skybound with these Hasbro properties is preserving and honoring the legacies already established with Transformers and G.I.Joe. While we're creating something new with the Energon Universe, we're also going to be devoting equal resources to paying respect to the glorious stories that came before and made these brands what they are today," said Robert Kirkman. "I don't want to live in a world where Larry Hama isn't continuing his unparalleled run on G.I.Joe: A Real American Hero, and thanks to Skybound, I won't have to!"
In November, Skybound will also release G.I. Joe: A Real American Hero #1 Larry Hama Cut, a special reprint of the iconic first issue featuring Larry Hama's original, unaltered scripting in a key moment that was changed in limited instances for the final printed edition. This is your first chance EVER to discover the very first G.I. Joe comic book exactly as Hama intended.
"We're so thrilled to be publishing this historic series," said Alex Antone, Editorial Director at Skybound. "300 issues by a single author is a feat that may never be accomplished again, and to be able to go back and fix something that Larry's been holding onto since the very beginning…it's just such a cool moment for the franchise and the fans."
"Several years ago, a fan at SDCC asked me how long Larry Hama would be writing G.I. JOE: A REAL AMERICAN HERO comics," recalled Michael Kelly, VP of Global Publishing at Hasbro. "My response was the only appropriate answer for someone in my position: 'for as long as Larry wants to keep writing them.' It's exciting to be continuing this journey that started back in 1982, and I'm grateful to the great team at Skybound for helping me keep that promise."
G.I. Joe: A Real American Hero #301 will be available on Tuesday, November 14, 2023 at comic book shops and digital platforms including Amazon Kindle, Apple Books, comiXology, and Google Play.