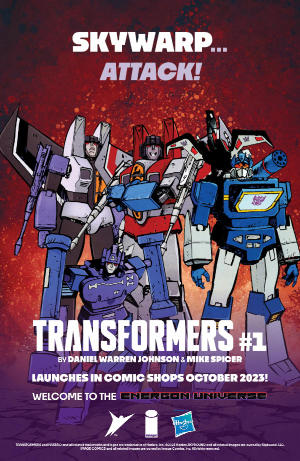 Skybound, in partnership with toy and game company Hasbro, revealed the full lineup of Decepticons team members that will appear in writer/artist powerhouse Daniel Warren Johnson's Transformers, launching with issue #1 October 4, 2023.
Teasers of each character appeared on Skybound social channels this week, culminating with the full Decepticons team reveal of Starscream, Rumble, Skywarp, Laserbeak, and Soundwave.
This squad joins the Transformers Autobots roster unveiled last week, consisting of Optimus Prime, Ratchet, Cliffjumper, Arcee, and Wheeljack. These iconic characters and more will be introduced throughout the first story arc of the all-new Transformers series.
The shocking conclusion to Robert Kirkman and Lorenzo De Felici's Void Rivals #1 served as the kickoff to the all-new shared "Energon Universe" with the surprise first appearance of iconic Transformers character Jetfire. The stealth launch introduced the historic new partnership between Hasbro and Skybound, with Transformers and G.I. Joe comics finding a new home with the publisher.
Transformers #1 begins an all-new era for the iconic Robots in Disguise from Daniel Warren Johnson (Extremity, Do a Powerbomb, DC's Wonder Woman: Dead Earth) and colorist Mike Spicer (Stillwater, Murder Falcon). Optimus Prime was supposed to have led the Autobots to victory. Instead, the fate of Cybertron is unknown, and his allies have crash-landed far from home, alongside their enemies—the Decepticons. As these titanic forces renew their war on Earth, one thing is immediately clear: the planet will never be the same. New alliances are struck. Battle lines are redrawn. And humanity's only hope for survival is Optimus Prime.
Transformers #1 will be available at  comic book shops  and digital platforms including Amazon Kindle, Apple Books, comiXology, and Google Play on Wednesday, October 4, 2023.