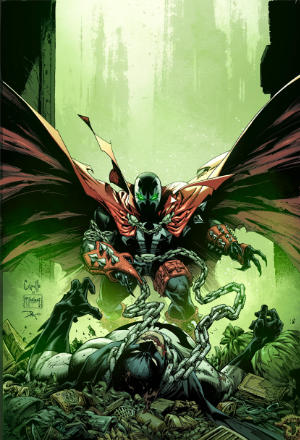 The comic event of the year is almost upon us! BATMAN/SPAWN is set for release on December 13, 2022.
The new release sees McFarlane and his longtime teammate, Greg Capullo (legendary SPAWN and BATMAN artist), come together for this long-awaited team-up. With Capullo penciling and McFarlane writing/inking, this crossover is sure to capture audiences attention with captivating artwork and fresh storylines.
"Two dark heroes, cursed by tragedy, find their paths again crossing…but not by choice! What sinister foe is at work, pitting the Dark Knight against the Hellspawn? From the shadows of Gotham City to New York City, this epic event is the blockbuster you've been waiting almost three decades for!"
It's been nearly 30 years since the McFarlane teamed up with esteemed artist, Frank Miller to bring the first BATMAN/SPAWN crossover (1994) and this second crossover book will prove to be just as memorable as the first.
SPAWN and BATMAN are comic industry staples, both of which set industry record and sustaining popularity for decades and will continue to do so.
Todd McFarlane's SPAWN is one of the world's best-selling comic books, with hundreds of millions sold worldwide in more than 120 countries. The title's 1992 debut sold 1.7 million copies, an unprecedented feat for an independent comic. In 2019, McFarlane made history with "SPAWN #300" and record-breaking "SPAWN #301". The release of which earned the GUINNESS WORLD RECORD for the world's "Longest-running Creator-owned Superhero Comic Book Series."
BATMAN/SPAWN #1 Hits shelves on December 13th.