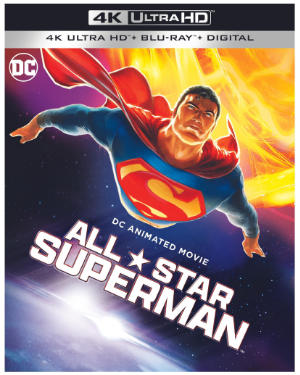 One of the Man of Steel's most personal tales in DC history – from the mind of comics icon Grant Morrison, and produced under the expert oversight of animation legends Bruce Timm and Dwayne McDuffie – All-Star Superman will be available to own on 4K Ultra HD for the very first timeon April 18, 2023 from Warner Bros. Discovery Home Entertainment.
Grant Morrison's beloved, Eisner Award-winning vision of Superman's heroic final days on Earth is brought to exquisite, animated life in All-Star Superman. The film begins as the Man of Steel rescues an ill-fated mission to the Sun (sabotaged by Lex Luthor) but, in the process, is oversaturated by radiation – which accelerates his cell degeneration. Sensing even he will be unable to cheat death, Superman ventures into new realms – finally revealing his secret to Lois, confronting Lex Luthor's perspective of humanity, and attempting to ensure Earth's safety before his own impending end with one final, selfless act.
Twelve years after its initial release, All-Star Superman holds a "Fresh" rating on Rotten Tomatoes. The film was the 10th in the ongoing series of DC Universe Movies and DC Animated Movies that now number more than 50 films across 17 years.
The star-studded voice cast is headed by James Denton (Good Witch, Desperate Housewives), Christina Hendricks (Mad Men, Good Girls) and Anthony LaPaglia (Without A Trace) as Superman, Lois Lane and Lex Luthor, respectively. Other noteworthy cast members are seven-time Emmy Award winner Ed Asner (Up, Elf, The Mary Tyler Moore Show) as Perry White, Golden Globe winner Frances Conroy (American Horror Story, Joker, Six Feet Under) as Ma Kent, Matthew Gray Gubler (Criminal Minds, Alvin and the Chipmunks franchise) as Jimmy Olsen and Linda Cardellini (Avengers: Endgame, Dead to Me, ER) as Nasty.
Rounding out the impressive cast are Arnold Vosloo (The Mummy), Steve Blum (Star Wars: Rebels, Cowboy Bebop, Naruto), Catherine Cavadini (Elvis, Soul, The Powerpuff Girls), Finola Hughes (General Hospital, Staying Alive), Alexis Denisof (Guardians of the Galaxy, Angel), Obba Babatunde (S.W.A.T., That Thing You Do!), John DiMaggio (Futurama, Interview with the Vampire), Chris Cox (Family Guy), Robin Atkin Downes (The Strain, Batman: The Long Halloween), Kevin Michael Richardson (Mortal Kombat, The Simpsons), Fred Tatasciore (Star Trek: Lower Decks, American Dad!) and Michael Gough (Overwatch, Batman: Arkham Origins).
All-Star Superman is executive produced by animation guru Bruce Timm (Batman: The Animated Series) and directed by Sam Liu (Batman: The Killing Joke, The Death and Return of Superman) from a script by acclaimed animation/comics writer Dwayne McDuffie (Static Shock, Justice League/Justice League Unlimited).
McDuffie, an incomparable force in the comics and animation realm, was a co-founder of Milestone Media, the industry's most successful minority-owned-and-operated comic company. His creations are headlined by Static Shock, for which he won a Humanitas Prize in 2003, and he served as producer in helping guide the beloved Justice League/Justice League Unlimited animated series. McDuffie passed away in 2011 at the age of 49.
All-Star Superman will be available to purchase April 18, 2023 on 4K Ultra HD both online and in-store at major retailers.
SPECIAL FEATURES INCLUDE:
The Art of the All-star Adaptation (New Featurette) – Go behind the scenes and inside the process of screenwriting, character designing and scoring the animated adaptation of the quintessential Superman comic series, All-Star Superman. This fascinating featurette includes insight from executive producer Bruce Timm, director Sam Liu, character designer Dusty Abell and composer Christopher Drake.
An All-Star Salute to the Silver Age Superman (New Featurette) – Explore DC's historical inspirations in Grant Morrison's love letter to the wildly fantastic Silver Age of Superman in comics.
Superman Now (Featurette) – In a moment of inspiration, Grant Morrison was provided an opportunity to revamp the Man of Steel into something modern, something more relevant for today's audience. This is the story of All-Star Superman – where it all started, and what it came to be.
The Creative Flow: Incubating the Idea with Grant Morrison (Featurette) – A detailed look at Grant Morrison's original sketches and ideas.
Audio Commentary – Featuring the thoughts of Bruce Timm and Grant Morrison.
Digital Comic Book – All-Star Superman