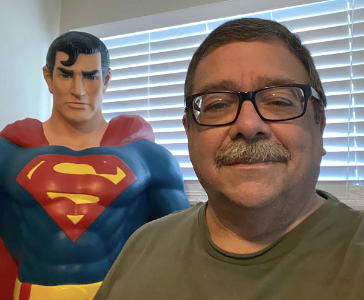 Superman's incredible 85-year history is defined with intricate detail and unique understanding by those who've known him best – the authors, artists, filmmakers, actors and experts tasked with propagating his legend through every medium – in the latest Edward Gross omnibus, VOICES FROM KRYPTON, published by Nacelle Books. The hardcover book is now available via Amazon, online retailers and popular bookshops, with an e-book edition also available.
Hailed as the most comprehensive examination of Superman in history, VOICES FROM KRYPTON begins in the mid 1930s with the character's creation by Jerry Siegel and Joe Shuster, and concludes with the announcement of the next big screen adventure, Superman: Legacy. Topics range from Superman's appearances in different mediums to the individual actors who've played the character, from Superman's Silver Age to present day iterations, and from the subtleties of capturing the Man of Steel to the tentpole moments of his past 85+ years. No subject is taboo, both the good and bad moments are discussed, and that includes an exploration of Superman's role in the world of the 21st Century — all of which comes from the perspective of individuals who have uniquely experienced the character on a first-hand basis.
The 250 individuals quoted in VOICES FROM KRYPTON run the most extensive gamut ever assembled for a single examination of Superman, and feature (to name but a few) actors Christopher Reeve, George Reeves, Brandon Routh, Henry Cavill and Tom Welling; filmmakers Richard Donner, Zack Snyder, Ilya Salkind, Kevin Smith and J.J. Abrams; showrunners Miles Millar, Al Gough and Marc Guggenheim; Comics legends Alex Ross, Dan Jurgens, Len Wein, Louise Simonson, Jerry Ordway, Joe Kelly, Jim Lee, Paul Levitz, Mark Waid and Neil Adams; and voice actors Tim Daly, George Newbern, Jerry O'Connell, Mark Harmon, Darren Criss and Bud Collyer; and even Siegel and Shuster themselves.
Veteran journalist Edward Gross has spent the past 40+ years covering film, television, comic books and more for publications such as Cinescape, Starlog, Life Story, Super Hero Spectacular, Film Fantasy, Cinefantastique and Geek Monthly. Additionally, he was the US Editor for Empireonline; Film/TV Editor for closerweekly.com, lifeandstylemag.com, intouchweekly.com and j14.com; and Nostalgia Editor for doyouremember.com. Gross has previously written two dozen non-fiction books on film and television, among them seven acclaimed oral histories, including titles on Star Trek (the two-volume The Fifty-Year Mission), James Bond (Nobody Does It Better) and Star Wars (Secrets of the Force).
"The potential for larger-than-life archetypes to teach us real world lessons is a supernaturally powerful use of the arts," says Brandon Routh, who famously donned the cape in Superman Returns, and calls VOICES FROM KRYPTON a "masterful oral history" in the book's Foreword. "Superman's societal evolution has made him an amazingly resonant conduit of the 'teach a man to fish' parable. Teaching us how to embrace, and accept, each other leads us down the path to harmony. To a present and future where we save ourselves.
"Ed has been a part of my journey as we've had many thoughtful and insightful interviews over the years. each one giving me an opportunity to dig deeper into my understanding of our beloved hero," adds Routh. "You, reader, are in good hands."
"There have been entire encyclopedias chronicling the Man of Steel's comic book adventures, countless books and articles written about his radio programs, his films and his television appearances, but those are only individual facets of his lore, pieces of a whole," relates comics legend Mark Waid, cowriter of monumental Kingdom Come, who labels VOICES FROM KRYPTON "an incredible and unique achievement" in the book's Afterword. "Ed Gross has – by reaching out to dozens of experts and key players – spared no effort in assembling all their vital knowledge in one volume, using nothing but the voices of Those Who Were There Along The Way."