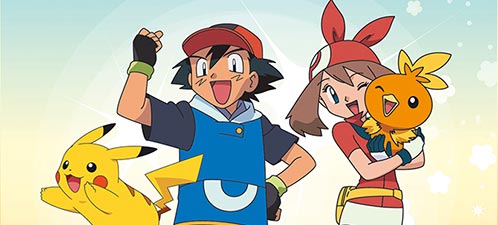 VIZ Media announces the new manga series HORIZON: SUN AND MOON on July 10  and an exciting new POKÉMON home media edition with the release of the POKÉMON ADVANCED BATTLE COMPLETE COLLECTION on June 12.
POKÉMON HORIZON: SUN AND MOON features story and artwork by Tenya Yabuno and is the latest addition to VIZ Media's acclaimed POKÉMON catalog. The series is rated 'A' for All Ages and will be available in print with an MSRP of $9.99 U.S. / $12.99 CAN. The final volume of the two-part series is scheduled to be published in November.
In POKÉMON HORIZON: SUN AND MOON, Akira's summer vacation in the Alola region heats up when he befriends a Rockruff with a mysterious gemstone. Together, Akira hopes they can achieve his newfound dream of becoming a Pokémon Trainer and master the amazing Z-Move. But first, Akira needs to pass a test to earn a Trainer Passport. This becomes more difficult when Rockruff gets kidnapped! And then Team Kings shows up with—you guessed it—evil plans for world domination!
POKÉMON HORIZON: SUN AND MOON writer and artist Tenya Yabuno made his manga debut in 1990 with his one-shot manga story, Jonetsu no Clipper. He received the 34th Kodansha Manga Award and 57th Shogakukan Manga Award with Inazuma Eleven in CoroCoro Comics. His other works include Ultra Eleven and Botch Waiwai Misaki E.
The POKÉMON ADVANCED BATTLE COMPLETE COLLECTION will debut exclusively on DVD and will feature 52 episodes on six discs. The set will carry an MSRP of $54.97 U.S. / $63.99 CAN with episodes presented with English dubbed as well as English SDH subtitled dialogue options.
In the POKÉMON ADVANCED BATTLE COMPLETE COLLECTION, Ash earns his final two Gym badges and secures himself a spot in the Hoenn League Championships, while May almost misses her chance to win her final contest ribbon. But she's victorious, and the stage is set for epic showdowns with both of her rivals in the Grand Festival! Ash meets two Trainers who become his own Hoenn rivals and faces off against both of them during the course of the tournament. Upon returning to Kanto and reuniting with old friends, Ash is recruited for a new challenge—the Battle Frontier!
POKÉMON is one of the most successful international entertainment franchises of all time. More than 300 million POKÉMON video games and over 23.6 billion Pokémon Trading Cards have been sold in more than 74 countries in addition to substantial publishing and merchandise sales. VIZ Media is the official North American distributor for a wide variety of POKÉMON home media releases including animated series and films and also publishes a variety of POKÉMON manga graphic novel series including POKÉMON ADVENTURES, POKÉMON ADVENTURES: FireRed & LeafGreen, POKÉMON ADVENTURES: EMERALD, POKÉMON ADVENTURES: DIAMOND AND PEARL/PLATINUM, POKÉMON ADVENTURES: HeartGold& SoulSilver, POKÉMON ADVENTURES: BLACK & WHITE, POKÉMON X•Y, and POKÉMON OMEGA RUBY • ALPHA SAPPHIRE.