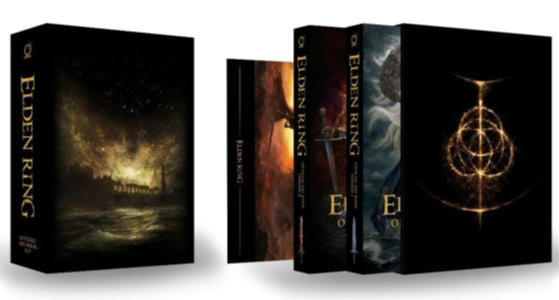 The Tarnished over at UDON Entertainment have used up all of their Smithing Stones to upgrade their UDON Store Exclusive Elden Ring Official Art Book Set into something truly worthy of the [Demi]Gods.
Featuring stunning illustrations from Elden Ring, UDON's English-language editions interior contents will match the Japanese editions. They include gorgeous concept and character artwork, illustrated lists of items, weapons, characters and enemies, and so much more!
Elden Ring Official Art Book Volume 1 and Volume 2 will be released to online and physical booksellers everywhere this summer, 2023. 
But…for those fans who want a truly special edition of this work, UDONstore.com is thrilled to announce that the UDON Store Exclusive Elden Ring Official Art Book Volume 1 & 2 Set will now be contained in a gorgeous metallic foil slipcase, and the set will also include an 8" X 10" inch metallic print featuring the epic battle of Malenia fighting Radahn from Elden Ring's opening cinematic.
All customers who have already placed a pre-order for the two-book set through the UDON Website will be automatically upgraded to the Slipcase Set Edition at no extra charge!
In the special slipcase edition, both the slipcase and print will feature special metallic printing, and additional gold foil stamping on the slipcase's 'Elden Ring' logos! These will be incredibly sharp-looking products, and the print itself will be suitable for framing. The ELDEN RING OFFICIAL ARTBOOK Volume 1 & 2 Slipcase Set is available exclusively through UDONstore.com. As a reminder, the editions of the books released to the mass market separately and as part of the exclusive set at UDONstore.com are identical.