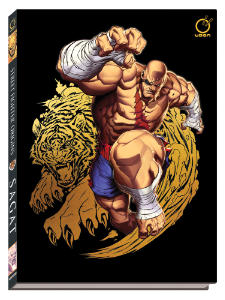 UDON Entertainment announced a brand new original graphic novel, eagerly anticipated by fans and featuring an untold story of the Street Fighter universe–STREET FIGHTER ORIGINS: SAGAT! Coming April 2023 in both a standard 8.25"x11.25" HC for all stores, and a gorgeous Limited-Edition, Foil-Stamped Variant Hardcover to UDONstore.com.
SAGAT! One of the toughest Street Fighter opponents, his name strikes fear into the hearts of fighters around the world! The original 'boss' of the very first Street Fighter video game, one of the Four Heavenly Kings of Shadaloo from the genre-defining Street Fighter II, and one of fans' favorite chraracters, the secret origins of Sagat have never been revealed by Capcom or UDON… UNTIL NOW!  Before the martial arts world learned to fear his name, Sagat struggled to find his place in his home nation of Thailand, and light will be shed on his dark past in a tale of kings and dictators… of monks and assassins… of men and gods.
Created by the fan-favorite Street Fighter Origins: Akuma team of writer Chris Sarracini, artist Joe Ng, and color artist Espen Grundetjern, Street Fighter Origins: Sagat will thrill graphic novel readers new to Street Fighter with dynamic art and a compelling story of inner struggle, and divulge new secrets from the series' lore that die-hard fans have demanded for years.
"He is a man obsessed with victory, one of the Four Heavenly Kings of Shadaloo, and the God of Muay Thai. Sagat is among the world's fiercest and most dedicated fighters. But before the martial arts world learned to fear his name, Sagat struggled to find his place in his home nation of Thailand. Street Fighter Origins: Sagat reveals the secrets of this dark figure's past for the first time in a tale of kings and dictators… of monks and assassins… of men and gods."