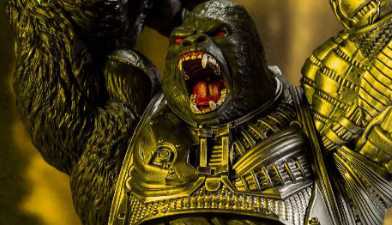 Todd McFarlane, legendary creator, and McFarlane Toys creative force announced a new McFarlane designed creature toy line RAW10 coming exclusively to Walmart.  McFarlane and the award-winning McFarlane Toys' design team have created a brand-new toy line and online comic series for creature and monster fans of all ages.   
"I'm excited to get back to creating and designing creature and monster toys," Said Todd McFarlane, McFarlane Toys CEO and Creative Force. "Fans, collectors and kids alike can enjoy the new RAW10 world, upcoming online RAW10 comic series and collecting all the creatures."
In the near future, the worlds of Super-Science and Primal Savagery have merged. Hidden away from prying eyes, the secret laboratories of RAW10 have created powerful warriors: part beast, part machine! But some have rebelled against their creator and have chosen to fight on the side of Humanity! Who will prove to be the strongest!
The first line of RAW10 toys features McFarlane's classic and fan-favorite comic gorilla CY-GOR, and brand-new McFarlane designed monsters and creatures.  McFarlane Toys RAW10 creature toy line is available exclusively at Walmart. The line is available for pre-order now at Walmart.com and coming to store shelves on August 1.