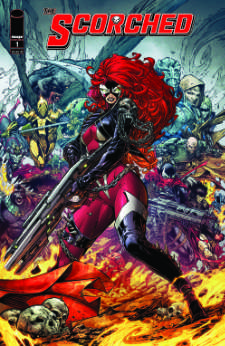 The Scorched comic series, Todd McFarlane's highly anticipated first ever superhero team book, is next on deck in the Year of Spawn. It follows his three record-breaking new comic title releases in 2021. McFarlane's chosen creative team for The Scorched series is the top creative team with writer Sean Lewis and artists Stephen Segovia and Paulo Sequeria. The Scorched #1 is the first all-new issue of McFarlane's Superhero team book. After 30 years of the regular monthly Spawn book, The Scorched gathers the best characters for three decades and puts them together into one title. The first issue's initial characters in The Scorched #1will include Reaper, Spawn, Redeemer, Gunslinger, Medieval Spawn, She-Spawn, and many more waiting in the wings.
The stunning covers for The Scorched #1 are created by superstar artists Ryan Stegman, Puppeteer Lee, Brett Booth, Greg Capullo, Don Aguillo, fellow Image founder Mark Silvestri, and McFarlane. Booth's cover of The Scorched #1interconnects with King Spawn #1 and Gunslinger Spawn #1 to form one epic work of art.
The Scorched #1 will include forty-eight pages of full-color with a premium 8 pt. cover stock showcasing the top talents in the industry for this inaugural launch.
"We are doing a free upgrade on The Scorched #1 cover stock to be closer to the quality of the Spawn monthly comics, after hearing comments from some retailers and fans. We are listening to you!" said McFarlane, Spawn creator and President at Image Comics. "The Scorched #1 is on track to become another record-setting new title, and I want to thank all the comic retailers and fans for their support. We are having a blast creating an all-new team book with new storylines, old and new superhero characters."
Join the battle with The Scorched #1 extravaganza as an epic tale of heaven, hell, and earth all
begin to collide!
The Scorched #1 will be available at comic book shops and on digital platforms, including Amazon Kindle, Apple Books, and Google Play on Wednesday, January 12, 2022: