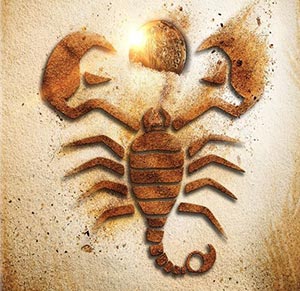 Get ready for an all-new adrenaline-filled adventure in the next chapter of the beloved fan-favorite franchise, Scorpion King: Book of Souls, arriving on Blu-rayTM combo pack, DVD, Digital and On Demand on October 23, 2018 from Universal 1440 Entertainment, the original content production arm of Universal Pictures Home Entertainment. Filled with heart-pumping action sequences and intriguing new characters, the historical fantasy film stars Zach McGowan (Terminator Salvation, "Shameless") as the legendary Scorpion King alongside Pearl Thusi ("Quantico", Tremors 5: Bloodlines) as the Nubian Princess, Peter Mensah (Avatar, "True Blood") as the evil warlord and Nathan Jones (Mad Max: Fury Road, Troy) as the noble guardian.Showcasing stunning visuals, Scorpion King: Book of Souls reaches new levels of adventure that will keep viewers mesmerized from start to finish.
The legendary Scorpion King returns for an epic adventure in the latest action-packed film in the franchise. In ancient Egypt, the evil warlord, Nebserek (Mensah), discovers a cursed sword that makes the one who wields it more powerful with every soul it strikes down. Determined to stop his power from growing, the Scorpion King (McGowan) joins forces with Tala (Thusi), the Nubian Princess; Amina, a mysterious woman with a magical and tragic secret; and her golem guardian (Jones) to find the one thing that can defeat Nebserek: the Book of Souls.
Scorpion King: The Complete Collection will also be available on Blu-RayTM and DVD on October 23, 2018. From the producers of The Mummy comes this epic action-adventure collection, including all five films in the Scorpion King franchise. New and longtime fans can now enjoy the wonder of all five movies in one must-own collectible set including, The Scorpion King starring Dwayne Johnson, the prequel The Scorpion King 2: Rise of a Warrior with Michael Copon, The Scorpion King 3: Battle for Redemption starring Victor Webster, The Scorpion King 4: Quest for Power, and newest film Scorpion King 5: Book of Souls.
Scorpion King: Book of Souls will be available on Blu-ray, DVD and Digital.
Blu-ray unleashes the power of your HDTV and is the best way to watch movies at home, featuring 6X the picture resolution of DVD, exclusive extras and theater-quality surround sound.
Digital lets fans watch movies anywhere on their favorite devices. Users can instantly stream or download.
Movies Anywhere is the digital app that simplifies and enhances the digital movie collection and viewing experience by allowing consumers to access their favorite digital movies in one place when purchased or redeemed through participating digital retailers. Consumers can also redeem digital copy codes found in eligible Blu-rayTM and DVD disc packages from participating studios and stream or download them through Movies Anywhere. Movies Anywhere is only available in

the United States

. For more information, visit https://moviesanywhere.com.