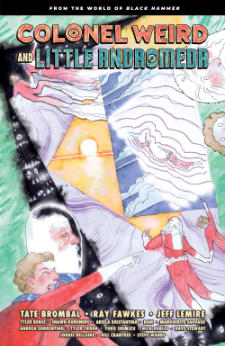 Substack's expansive comics program adds another exclusive series with the introduction of Colonel Weird and Little Andromeda, a new weekly original comic bringing together a host of creators to tell self-contained stories of beloved Black Hammer characters Colonel Randall Weird and Dr. James Robinson. The two will appear together in a series of dimension-hopping cross-world capers in Lemire's Tales from the Farm newsletter.
"Colonel Weird continues to take on a life of his own as both a fan favourite and my own personal favourite Black Hammer character" says Jeff Lemire. "It's a wonderful, strange dream come true to see so many talented artists interpreting the Colonel, and Tate and Ray have done a great job anchoring the whole thing and building a surprising new chapter that fans will love."
Writer Tate Brombal says "I feel like the luckiest guy on the planet to be welcomed back into the Black Hammer universe! And this time nothing is off-limits, as we take this unlikely duo across worlds and genres in a project that could only be possible in this format. It's truly a dream come true for a writer to work with so many artists of this caliber. And from the beginning, Colonel Weird and Little Andromeda was designed to be the best possible canvas for our artists to cut loose and showcase their art form. So, strap in for a breathtaking, formative tale that is integral to who Colonel Weird and Doctor Andromeda become. Fans of Black Hammer and the comics medium will NOT want to miss out on this!"
Space-faring adventurer Colonel Weird sets forth on a journey to save his superhero colleagues from their rural purgatory by entering the Para-Zone only to find himself paired with the much much younger Doctor Andromeda on a series of fantastical adventures through assorted worlds and dimensions!
Jeff Lemire and Dean Ormston's Black Hammer premiered in 2016 and has since grown into a full-fledged universe of characters, with ten collected editions and eight different spinoff series, as published by Dark Horse Comics. The series has racked up four Eisner Awards, as well as both a Ringo and Tripwire Award at the time of publication. 
The weekly series is set to include an all-star artist lineup of some of the best creators in comics today: Ariela Kristantina, Ray Fawkes, Andrea Sorrentino, Marguerite Sauvage, Yuko Shimizu, Dani, Tyler Bence, Nick Robles, Shawn Kuruneru, Tyler Crook and written by Tate Brombal (Barbalien, House of Slaughter. The first chapter premiers today as part of Lemire's Tales from the Farm newsletter, home to the ongoing original series The Last Days of Black Hammer, as well as the all-new Fish Flies, which are both running weekly now.