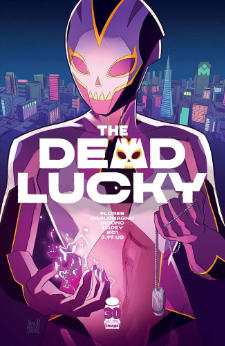 Debut writercMelissa Flores (Power Rangers) unites with superstar artist French Carlomagno (Power Rangers) and colorist Mattia Iacono (Radiant Black) for an all-new Massive-Verse comic, The Dead Lucky. This ongoing series will launch from Image Comics this August.
"The opportunity to introduce Bibiana and The Dead Lucky to the Massive-verse with such fantastic collaborators as French, Mattia, Becca and the Massive-Verse team, is an honor that can't be understated," said Flores. "When we meet Bibi, she lives between worlds, culturally, physically and mentally. Stricken with survivor's guilt, she's untethered; lonely and lost in her past, drifting without purpose. I can't wait for the world to experience her superhero journey."
In The Dead Lucky, San Francisco is changing. Tech consortium Morrow is building the city of the future with "peacekeeper" robots looming on every corner—and wherever Morrow isn't, the Salvation gang is.
Kyle Higgins, who co-created the now-Eisner-Award-nominated series Radiant Blackwith Marcelo Costa, added: "One of the best things to come out of my time on Power Rangers was getting to work with Melissa, who continues to impress me as a storyteller and a natural world builder. When she pitched me The Dead Lucky it was a no brainer. What she, French, Mattia and Becca have put together is a fascinating look at technology, grief and our need to connect…plus some killer superhero action, of course. I can't wait for people to explore the next corner of The Massive Verse!"
Bibiana Lopez-Yang is changing too. She came back from Afghanistan with PTSD and the ability to control electrical currents. If she can hold it together, she might be the hero San Francisco needs. But against an enemy this big, it isn't enough to be good. She'll have to be lucky.
"It was exciting to be able to bring Melissa's characters to life. Readers will quickly realize how complex Bibi is and I'm sure they will love her," said Carlomagno. "Having the opportunity to be co-creator of this series gave me the chance to do exactly the pages I had in mind with complete freedom and that's why it was also great working with Mattia, with whom a fantastic chemistry was immediately born that made the pages even more alive!"
The Dead Lucky #1 will be available at comic book shops on Wednesday, August 3. The Dead Lucky #1 will also be available for purchase across many digital platforms, including Amazon Kindle, Apple Books, and Google Play.