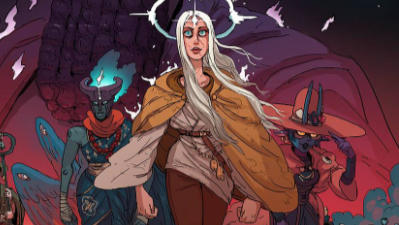 Fan-favorite cartoonist Tom Parkinson-Morgan is back with a new chapter of the popular Kill 6 Billion Demons in Vol. 4: King of Swords out this August from Image Comics.
In the fourth chapter of this series—adapted for print from the successful webcomic Kill 6 Billion Demons—heir to the multiverse Allison Ruth must grapple with the limits to her own strength as she enters the world's deadliest multiversal fighting tournament in a desperate struggle against the god-king Solomon David.
"This is the climactic and dramatic clash that culminates our characters' journeys from the very start of the book and definitely shouldn't be missed!" said Parkinson-Morgan.
This beloved webcomic series also has a RPG tie-in by Parkinson-Morgan and an ever-expanding universe of characters and lore. Kill 6 Billion Demons blends heavy metal influences with French fantasy comics' style and is perfect read for fans of Dungeons & Dragons. The series has built a cult following online through a top Patreon campaign before being published by Image Comics. 
Kill 6 Billion Demons, Vol. 4: King of Swords will be available on Wednesday, August 4 and in bookstores on Tuesday, August 10. It can be pre-ordered at your local comic book shop or independent bookstore via Bookshop or IndieBound.