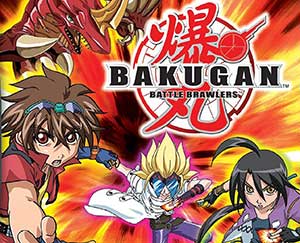 Spin Master, TMS Entertainment, and Nelvana have announced an agreement in principle to relaunch the global hit "BAKUGAN". Set to debut on the 10 year anniversary of the original series, the coordinated project also includes the development of toys, toy-linked TV animation and the formation of a joint production committee.
"BAKUGAN" originally launched in 2008 and quickly captured the imagination of children around the world.  "BAKUGAN" became a global franchise, delivering multiple years of television content.  "BAKUGAN" was named Toy of the Year and License Property of the Year in 2009.
The new series, "BAKUGAN Battle Planet", will air on Cartoon Network in the US, Europe, Middle East & Africa, Latin America, Australia and New Zealand, and Teletoon in Canada. The animated series follows the adventures of Dan and his best friends, the first kids on Earth to bond with the mysterious alien creatures known as the Bakugan.  With storylines themed around friendship, battling and competition combined with a new integrated toy line, "BAKUGAN Battle Planet" is anticipated to be one of the biggest and most dynamic franchises yet. In addition to the television series, additional short form content will be available online.
"BAKUGAN is a global legacy brand that aided in the evolution of Spin Master's approach to entertainment and franchise development," said Ronnen Harary, Co-Founder, Chairman and Co-CEO. "We are excited to be working with our global partners to relaunch BAKUGAN, bringing innovation, excitement and battling fun to children all over the world."
The BAKUGAN Battle Planet toy line will retain the essence of what made the original toys so popular, with exciting new features that bring revolutionary card and app play. Innovative, all-new marble-like balls with ingenious technology instantly transform into multiple collectible characters when rolled over a magnetic card. The game will bring different levels of play, from beginner to advanced, and allow players to compete against multiple opponents. This will offer enhanced collectability due to its wide range of strategy options.
The toy line will be available in North America and other select markets in Q1, 2019 and will be rolled out globally beginning Q2 2019. The animated series will premiere in North America in December 2018, and Latin America and EMEA in 2019. The Bakugan licensing program, led by Cartoon Network Enterprises in all territories except Asia, will also be available at retail in 2019.   In Asia, Takaratomy will launch the toy line in Japan and TMS will manage distribution of the toy, animated series and related licensing program.