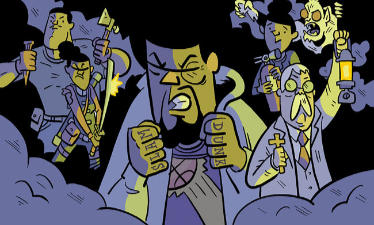 Fan favorite creator Kyle Starks (Assassin Nation, Sexcastle) is back with more action-packed laughs in the forthcoming horror/comedy mashup, Old Head. This original graphic novel will hit shelves this August from Image Comics.
Perhaps best described as Space Jam meets Fright Night, this hilarious new story follows a former basketball star when he returns home for his mother's funeral. What he doesn't expect is to learn of her mysterious past, his destiny, and to find himself embroiled in a decades-long blood feud with Dracula himself.
"I'm really excited for folks to finally get to read Old Head—an examination of legacy and toxic masculinity viewed through the lens of a father and daughter fighting sex monsters," said Starks.
Old Head original graphic novel will be available on Wednesday, August 25 and in bookstores on Tuesday, August 31. Old Head will also be available for purchase across many digital platforms, including Amazon Kindle, Apple Books, comiXology, and Google Play.