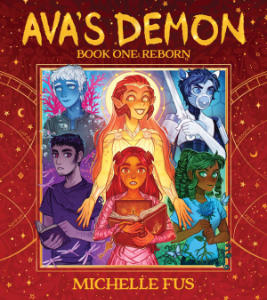 Skybound Comet unveiled a thrilling preview of Ava's Demon Book One: Reborn, acclaimed author Michelle Fus' first book in a new series of graphic novels collecting their groundbreaking YA webcomic now available for the first time in the book market.
The upcoming original graphic novel is an exciting release for Skybound Comet, a new original graphic novel imprint aimed at Young Adult (Ages 12+) and Middle Grade (Ages 8-12) audiences, but sure to captivate readers of all ages.
In Ava's Demon Book One: Reborn, a young, shy girl named Ava discovers that the demon who haunts her is actually the spirit of an ancient alien queen named Wrathia. The two form a powerful pact—in exchange for a better life, Ava must help Wrathia seek revenge against TITAN, the godlike being who destroyed her empire. To aid in the fight, Ava must assemble Wrathia's most trusted warriors and their host lifeforms. The only problem is, she doesn't know how to find them…
"Whether you've been following the webcomic since 2012, just started reading it on Webtoon, or backed one of the record-breaking Kickstarters, one thing's for sure: once you start reading Ava's Demon, you'll be a fan for life." Said Alex Antone, Editorial Director of Skybound. "Ava's Demon will always hold a special place in our hearts, and we're thrilled to bring this beloved story to both longtime fans and a brand-new audience with its first official book market release!"
Skybound Comet's will also soon publish Sea Serpent's Heir Book One (MAY218588, ISBN: 978-1-5343-2129-8) from acclaimed creators Mairghread Scott (Star Wars: Resistance, Guardians of the Galaxy) and Pablo Tunica (TMNT Universe) coming October 2022, with Sea Serpent's Heir Book Two also coming Fall 2023.
Ava's Demon Book One: Reborn will be available at comic book shops on Wednesday, May 24, 2023 and everywhere books are sold, along with digital platforms including Amazon Kindle, Apple Books, comiXology, and Google Play on Tuesday, May 30, 2023.