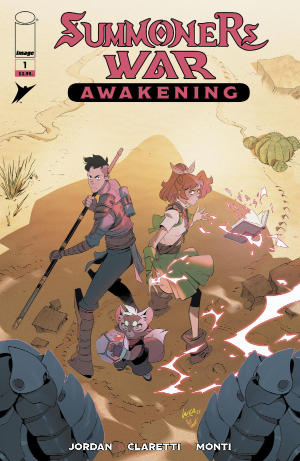 Skybound, in partnership with game publisher Com2uS, announced the launch of Summoners War: Awakening, a new comic book series based on the worldwide hit mobile game. The series reunites the all-star team behind Summoners War: Legacy, writer Justin Jordan and artist Luca Claretti, and will feature colors by Igor Monti (Radiant Black). Summoners War: Awakening #1 will arrive in comic book shops April 19, 2023.  
Return to the world of Alea, as war rages between armies that summon magical creatures to battle each other in a seemingly never-ending conflict. Now, newly trained summoner Rai and her allies are stranded deep within enemy territory, with threats from soldiers on the ground, sky pirates in the clouds, and a bounty hunter on their trail. Discover new friends, new foes, and powerful creatures in the next chapter of the action-packed Summoners War saga!
"I'm so excited to explore more of Summoners War in this new series," said Skybound Editor, Amanda LaFranco. "As a personal fan of all things in the fantasy genre, Summoners War is one of those projects that lets you go big and bold, and really expand out a world, but I also really love Rai's tenacity and Tomas' cynicism. Continuing from Summoners War: Legacy, the focus of this story arc, Awakening, is all about Rai developing as a Summoner and finding new abilities, but also growing as a human being. Rai and Tomas have a lot to learn from each other in this arc, and Justin and Luca have developed so many cool new characters and set pieces. I think any fantasy fan can pick this up and enjoy diving into this world."
The Summoners War: Awakening comic series is the latest expansion to the Summoners War IP, following Skybound's previous comic series Legacy, and alongside the latest new mobile game entitled Summoners War: Chronicles, released November 2022. The variety of expansions is a testament to the game's success and longevity, which proves to be a major tentpole for Com2uS' gaming portfolio. Com2us has been in partnership with Skybound since 2017 jointly releasing Summoners War comics, The Walking Dead mobile games, and much more. Com2uS is extending its business territory from mobile games to Global Media Contents Company that covers different entertainment genres.
Summoners War: Awakening #1 will be available at comic book shops and digital platforms including Amazon Kindle, Apple Books, comiXology, and Google Play on Wednesday, April 19, 2023.