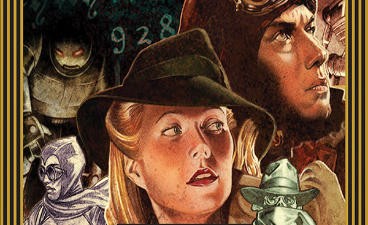 Dynamite's hotly anticipated new art book celebrating the revolutionary visions of cult classic film Sky Captain and The World of Tomorrow is available now through a limited time Indiegogo campaign featuring expansive extras, signed options, and more alongside production designer and co-creator Kevin Conran.
The 272 page tome pulls back the curtains on the pulp and steampunk world that innovated filmmaking techniques and wowed audiences in theaters in 2004. The beloved film called back to classics and techniques of old, while also furthering digital technologies that, once groundbreaking, have since become industry standards. Sky Captain was the first major production to be shot entirely against blue screen, with digital effects planned in advance to be integrated into the scenes.
"Sky Captain was a labor of love for my brother and I," said Kevin Conran. "It was years of ups and downs—and more work than we could have ever imagined. Somehow we kept going. Being at the forefront of the digital revolution, Sky Captain was a one of a kind experience. One I was fortunate enough to share with some truly wonderful people. And that is why this book exists."
The book chronicles the film's origins, influences, and eventual blueprints, guided by Kevin Conran and pulling from his own personal archives. Who developed the idea initially years prior as a young child with brother and eventual director Kerry Conran. Growing up, the pair fell in love with film serials and pulpy comic books. Later, they would work for nearly a decade developing a black and white teaser, writing the screenplay, and furthering the aesthetic.