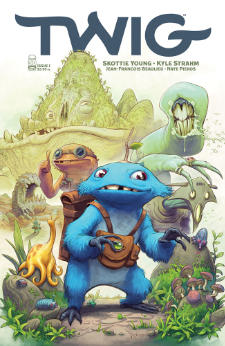 Eisner Award-winning I Hate Fairyland andMiddlewest writer Skottie Young and artist Kyle Strahm (Spread, Unearth) come together for an all-new epic fantasy/adventure called, Twig. This five-issue miniseries is set to launch from Image Comics in May.
It's the first day of Twig's new job as a journeyer on a Jeff Smith's Bone-esque quest to save a The Dark Crystal/Labyrinth-style world. Join our hesitant hero for an inspiring and imaginative tale of hope, heartache, and determination to overcome insurmountable odds.
"Kyle and I both grew up in the age of Fantasy movies filled with all kinds of critters, creature, and unlikely heroes on epic quests," said Young. "This is our love letter to that time, which we've never really left!" 
Strahm added: "Skottie and I have built a world where sunny landscapes hide creepy dark corners. Every environment Twig travels is a character all its own. And each strange new friend may not be so friendly!"
Twig #1 will be available at comic book shops on Wednesday, May 4. Twig #1 will also be available for purchase across many digital platforms, including Amazon Kindle, Apple Books, and Google Play.