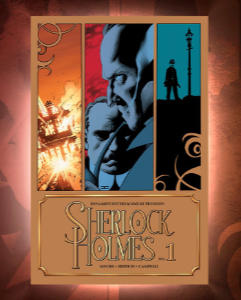 Sherlock Holmes is one of the most famous detectives in fiction, and now he's facing a brand new environment of the NFT comics collectibles space. The first issue of his acclaimed Dynamite series and the full graphic novel are now available via Terra Virtua. Plus, enter the Vampiverse and learn all about the multiversal variants of Vampirella.
The Trial of Sherlock Holmes series balances an old school reverence for the iconic figure with a modern edge. The series is co-written by John Reppion and Leah Moore, daughter of the legendary Alan Moore. Under slick covers by John Cassaday, moody noir artist Aaron Campbell plays his role in crafting a memorable tale in the Holmes canon.
The boundary-breaking crossover series Vampiverse blows the doors off of the established Vampirella mythos. Fan-favorite writer Tom Sniegoski has been contributing to the character for over 25 years and this time he's introducing countless new additions to the franchise in one fell swoop. For fun multiverse action and plenty of first appearances, it's a can't-miss series.
hese limited-edition digital collectibles are available to purchase on Terra Virtua here: 
https://terravirtua.io/marketplace?page=1&nft_type_code=COMICS&brand_code=DYNAMITE