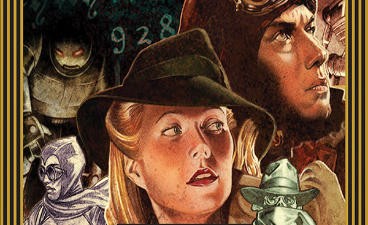 Dynamite announces the definitive tome on the concept artwork behind the cult classic film Sky Captain and The World of Tomorrow. Production designer and co-creator Kevin Conran opens the curtains on the pulp and steampunk flavored world.
"Roger Ebert wrote that Sky Captain & The World of Tomorrow made him feel the way he did when he first saw Raiders of the Lost Ark," said Kevin Conran. "Which made sense, because for most of our film's production Kerry and I felt like we had a giant boulder rolling after us. Made for nerds by nerds, Sky Captain and The World of Tomorrow was a long, hard journey and a labor of love. Fortunately, like Indy, we somehow managed to survive."
Sky Captain and The World of Tomorrow revved up its diesel engines and flew right into theaters in 2004, debuting a stunning world and innovating on the filmmaking process. The film wowed audiences, as it both called back to classic films and techniques, while furthering those techniques with advanced methods and technologies. Many of these groundbreaking ideas have since become standard in the industry.
The film was the first to be shot entirely against blue screen, with integrated digital effects in mind. A legion of talented visual artists, modelers, animators and more composed the look of the entire film, seamlessly setting actors in a lush CG world, as director Kerry Conran filmed the live action segments with actors including Jude Law, Gwyneth Paltrow, and Angelina Jolie.
Sky Captain had a long epic journey to the screen – over 20 years, and that is where the story really begins. As young children, brothers Kevin and Kerry Conran fell in love with the film serials and pulpy comic books of the 1930s and '40s, with their parents encouraging their artistic passion. Determined to make a feature film, they worked for over seven years honing their ideas into a black and white teaser. Then two more years passed writing the screenplay and further developing the aesthetic.
In this new book, the first official one sourced directly from Kevin Conran's private collection, he dissects all the varied influences. From the German expressionism, to the industrial design of the 1930s World's Fairs, to even the Fleischer Studios Superman shorts.
The 240 page deluxe hardcover features pencil and ink sketches, full color concept art, storyboards, and extensive commentary from Kevin Conran. Due for release in May 2021, the book is priced at $34.99.
THE ART OF SKY CAPTAIN AND THE WORLD OF TOMORROW is slated for release in May 2021. It will also be available through digital platforms courtesy of Comixology, Kindle, iBooks, Google Play, Dynamite Digital, ComicsPlus, and more!