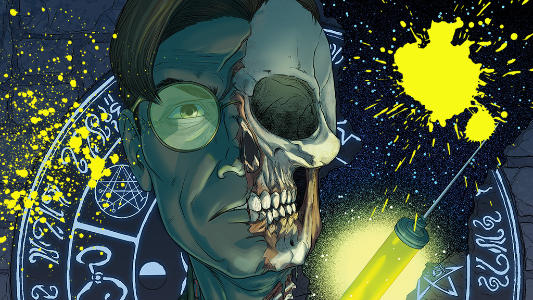 Dynamite is back with another special treat for horror fiends, REANIMATOR: WORLD OF CTHULHU – THE ETERNAL LIE PART TWO by writer Cullen Bunn and artist Blacky Shepherd, and it's available exclusively on Kickstarter right now!
The hotly anticipated second chapter of The Eternal Lie is here, following a hit first chapter which is also being offered separately or as an add-on in this new campaign. The horror epic is set immediately following the conclusion of H.P. Lovecraft's original "Herbert West – Reanimator" short story. Though in the original story readers must presume Doctor West to be dead, nothing can keep him down. Which is where Bunn and Shepherd's new story begins, with him traveling to the infamous town of Innsmouth, the center point of much of the wider Lovecraft tapestry. A diabolical cult has stolen his reanimation serum, and it being in someone else's hands is almost or even more terrifying than in West's.
"I'm excited to be returning to the world of Reanimator, especially while working with my pal and terrific artist Blacky Shepherd, doubly excited in that we're doing something with the character that hasn't been done before!," said writer Cullen Bunn. "We started down a terrifying path in the first story. Now, we're taking that tale to its cosmic conclusion!"
"I'm always excited to work with Cullen, especially on the Herbert West character," added artist Blacky Shepherd. "When I read the way the first volume of The Eternal Lie concluded, I needed to know how the whole story ended. Cullen didn't just end Volume 1 with a cliffhanger, he doused it in gasoline, set it on fire and drove it off the edge… at that point it's really about seeing how much death and destruction he leaves in the wake, and how much is left of the characters after they're done being put through the thresher!"
Horror and Lovecraft fans will not want to miss this new 48-page prestige format book, featuring premium cardstock covers. A set of multiple gorgeous cover options are all drawn by Black Shepherd, and collectors can pick their favorite or get all four in a discounted combo deal. Reanimator himself features on the main cover, and then Dynamite fan-favorites Vampirella and Lady Demon also star in covers. Other covers are fun collaborations with Rockin' Robbie Billups of the Pop Culture Philosophers YouTube channel, and one featuring legendary Philadelphia comics retailer Fat Jack's Comicrypt. Blacky is also available to do "remarque" illustrations on covers. The one-of-one original artwork for these covers are also available for collectors who want a true grail piece!
The campaign features a deep range of awesome add-ons. As mentioned, the first volume is being offered for those who missed it, including its several alternate variants. Dynamite is also offering digital packs of horror graphic novels from the library, featuring a range of iconic properties and characters. A limited edition trading card set can be stacked on to any backer's haul. Tee shirts and original art are also on offer. Last but certainly not least, Lovecraft fans can grab Dynamite's acclaimed Reanimator board game. Plus, updates coming soon on a sketch cards option!