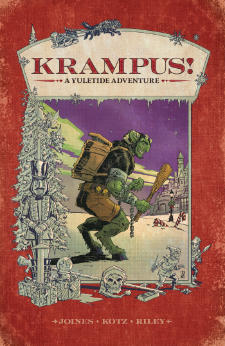 Christmas 2024 has come early, with Oni Press confirming the release of the long-awaited sequel to the acclaimed comedic holiday horror classic Krampus!: A Yuletide Adventure today. The festive tale returns, with cocreators acclaimed writer Brian Joines (Backtrack, Imagine Agents) and artist Dean Kotz (The Butcher of Paris, Warlord of Mars Attacks) at the helm. This Krampus! news arrives as a repackaged edition of the first installment, including a brand-new cover by Dean Kotz, hit stores. The revamped collection is available now at retailers everywhere.
"It's been so much fun revisiting Krampus and his world after spending so much time away," Joines says. "This has always been one of the projects I'm most proud of, and it's definitely the one that's had the most staying power, with people still discovering it every December. Fortunately, the story and the comedy and all of Dean's amazing work still holds up. I'm excited for this new installment and hope it will get our story in front of even more new readers."
"From the start, Dean and I have envisioned a number of Krampus-centric projects, and I'm thrilled we finally have the opportunity to do a follow-up," Joines adds. "With so many holiday legends and myths in the world, there's a wealth of source material at our disposal. As we did with the first book, I can't wait to smash them all together and see what happens."
In Krampus!, the titular character is released from his North Pole prison by the Secret Society of Santa Clauses, an organization made up of gift-giving figures from multiple cultures across the world. Their magical powers stolen by an unknown source, the Society must turn to Krampus to help return to the human world and recover them. Along the way, he'll encounter malevolent Sugar Plum Fairies, a holiday-themed gun for hire, and a dark secret that could rock the Society to its core.