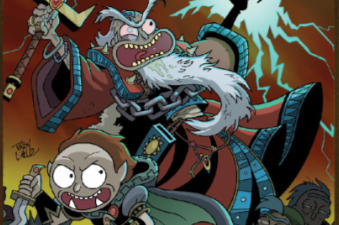 The Oni-Lion Forge Publishing Group and IDW Publishing are bringing back Adult Swim's cult favorite Rick and Morty: Dungeons & Dragons in an all-new hardcover deluxe edition, including a specially created Mr. Meeseeks story and featuring new cover art from Troy Little coming August 2021. Grab your dice, pencils, and spellbooks as Rick and Morty™ vs. Dungeons & Dragons returns in a complete collected adventure from the creative forces of writers Patrick Rothfuss and Jim Zub, illustrator Troy Little, colorist Leonardo Ito, with lettering by Crank! and Robbie Robbins, and a foreword from Jim Zub. 
"I still can't believe they let me write what's in here: A clever Jerry. A Rick who absolutely fails to save the day," said Patrick Rothfuss. "Secrets. Mysteries. A lambast of facism. Even an-honest-to-god Shakespearean soliloquy delivered by an ogre mage. Even if you're not into D&D or Rick and Morty™, there's still lots for you to enjoy in my weird, wild brain baby."
The deluxe edition will feature a brand-new cover, as well as all eight issues of the hit series, include backmatter from the Oni Press and IDW single issues, and an all-new story from Jim Zub and Troy Little featuring Mr. Meeseeks conquering the Forgotten Realms! "Well, now there's a deluxe omnibus of our impossible crossover calamity, and we even added in a brand-new Meeseeks adventure story! It's beautiful and horrifying," said Jim Zub.
"Drawing Rick and Morty mired deep in the realm of D&D has been an absolute dream. Working with a brilliant creative team (who have assured me they are not, in fact, mind flayers) we've rolled a natural 20 on this series. Intrepid readers—your *burp* adventure awaits!," said Troy Little. 
When Morty asks Rick for help learning how to play the classic role-playing game because he has a crush on a girl, it ends up drawing the entire family into a D&D world, where they inadvertently help the "bad guys" win but eventually make it right in the end.
And in the hit series Painscape, when magical D&D adventures come to Earth, no one will survive the Painscape! The world's greatest role-playing game returns to plague the world's most dysfunctional animated family, and this time Rick knows they can't just rest on brand-name recognition and curiosity. But even Rick Sanchez can't predict what will happen when long-abandoned characters come back for revenge.
"Working on Rick and Morty vs. Dungeons & Dragons has been a strange fever dream," said Zub. "There are days when I know it happened—the book was published and people liked it. Other times I think it's impossible that Troy, Pat, and I were allowed to unleash this strange-ass slice of entertainment out into the world." 
The new, complete deluxe edition includes over 250 pages of monsters, mayhem, and a bag of holding-worth of bonus materials—including the all-new story from Jim Zub and Troy Little. Rick and Morty vs. Dungeons & Dragons: Deluxe Edition will be available online and in stores on August 4, 2021. IDW Publishing will simultaneously release a 750 copy limited run of Rick and Morty vs. Dungeons & Dragons: Deluxe Edition, featuring an exclusive cover by Max Dunbar and signed by Patrick Rothfuss and Jim Zub.