The beloved, Eisner Award nominated comic book series Middlewest by Skottie Young and Jorge Corona will come to a breathtaking conclusion this July. The final issue of the series, Middlewest #18, will pack a punch with a stunning virgin cover, without trade dress, by Young.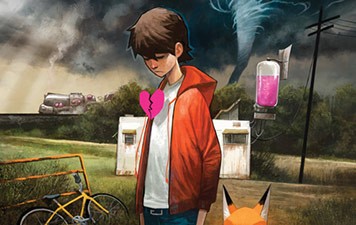 "This book has meant so much to me. Between telling my story of family struggles to finding new members of my family in my partner and co-creator, Jorge and his wife Morgan," said Young. "It's been one of the most rewarding experiences in the twenty years I've been in this business. I'm not crying, YOU'RE CRYING."
In Middlewest #18, the missteps of the past meet an uncertain future as the roving monster that Dale has been confronts the ruinous behemoth that Abel has become.
Corona added: "A beautiful lesson of life and family that will stay with me for a long time. Truly humbled by the extraordinary talent of the team that pushed the comic to new heights every month. Thank you all for staying with us till the end, and thank you Skottie for bringing us all along for the ride."
Middlewest #18 will be available at comic book shops on Wednesday, July 22.