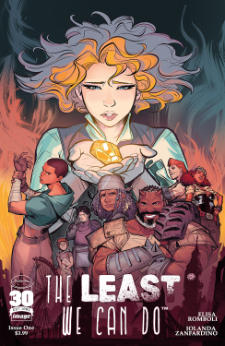 Fan-favorite creative duo Iolanda Zanfardino and Elisa Romboli (A Thing Called Truth) reteam for an all-new fantasy series in The Least We Can Do. This ongoing series will launch from Image Comics/Shadowline in September.
"Like for our previous books, we put our heart and soul into The Least We Can Do," said Zanfardino. " This time, we also put some fighting, magic, thirst for justice, blood, revenge, and many buff women into it! This post-apocalyptic dystopian world sprung up inside me, demanding to be narrated. All the characters came alive in my head and, what was particularly exciting with this story, was that the complexity of the plot all came together very naturally for me. Did I love writing this story? Hell yes! I really hope you'll love reading it!"
Mysterious magical power arises from a world nearly destroyed by war. A young woman fights for her ideas of revolution and to build a new society from the debris. Realizing that she can't do it alone, she has to prove her worth to the Eclipse Rebels to join them against the dreadful Eden Army.
A story of discovering what is right and what love means in a military-occupied and socially oppressed United Kingdom.
Romboli added: "It feels great to finally be able to reveal what we've been working on for all these months! Drawing The Least We Can Do pages has been an opportunity to work on so many different narrative situations, story moods, and showcase bodies we don't see often in the media. I'm very proud of how it turned out! I'm sure readers will love all the singular characters of this new world. And I bet they will be looking forward to seeing what happens next!"
The Least We Can Do #1 will be available at comic book shops on Wednesday, September 14. The Least We Can Do #1 will also be available across many digital platforms, including Amazon Kindle, Apple Books, and Google Play.