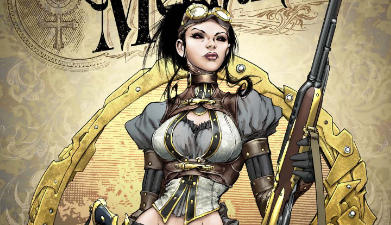 Image Comics announced that the long-running,  fan-favorite Steampunk adventure series—Lady Mechanika by Joe Benitez—has found a new home at the publisher. The adventure begins with an Image Comics FCBD 2021 edition of the first appearance of the character available at participating comic shops on Saturday, August 14 and then a new Lady Mechanika story launching this September from Image. 
The entire backlist of Lady Mechanika will be made available from Image Comics too, beginning this August with the long anticipated reprints of the volume one trade paperback and hardcover editions. These reprints will join a total of seven trade paperbacks and five hardcover editions of the beloved series.
In Lady Mechanika, readers follow a young woman during the Victorian Era who is desperately in search of the secrets to her past—a past that left her with extraordinary, but unnatural, mechanical limbs.
"I'm very excited that Lady Mechanika is moving to Image!" said Benitez. "We hope this move will provide an opportunity to share the series with a new, wider audience, and also give us more time to focus on our creative strengths while letting the experts at Image handle publishing and marketing. We have so many stories to tell, hopefully this will help us get more of them out faster. The next story arc we're calling 'The Monster of the Ministry of Hell-th' will deal with a piece of Lady Mechanika's haunted past. Check out a preview of the new book in our FCBD issue!"
Eric Stephenson, Publisher & Chief Creative Officer at Image Comics added: "We're pleased to welcome Joe back to Image. Joe got his start at Image, as part of Marc Silvestri's Top Cow Productions, and he has grown into a phenomenal talent over the years. What he has built for himself with Lady Mechanika is truly impressive, and it's exciting to be part of what comes next for this incredible series."
The FCBD 2021 edition of Lady Mechanika will include the stand-alone short story "The Demon of Satan's Alley," which first introduced Lady Mechanika and her steampunk world (Lady Mechanika #0)—plus a preview of "The Monster of the Ministry of Hell-th," the newest story by series creator Joe Benitez which will debut this year at Image Comics.