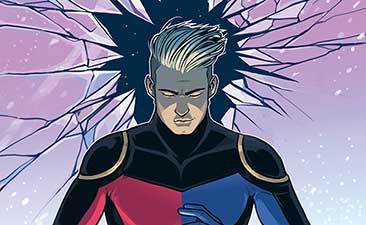 Dynamite announced that Peter Cannon: Thunderbolt will be collected in a deluxe oversized hardcover format for fans to fully appreciate and treasure the critically acclaimed limited series.
Not only is Kieron Gillen writing superheroes again… Not only is Pete Morisi's iconic Charlton hero back again… The series turns the mirror around to reflect the deconstruction of the legendary text, Watchmen. Peter Cannon of course served as the template for Alan Moore's Ozymandias, alongside the other characters inspired by Charlton Action Heroes. What if the inspirations get to respond to this modern post-Watchmen landscape of the medium?
The ambitious series by a perfectly in-synch creative team wowed fans and critics when it debuted at the beginning of 2019. Kieron Gillen, the Eisner-nominated and fan-favorite Uncanny X-Men, Darth Vader, The Wicked + Divine scribe is matched by rising artist extraordinaire Caspar Wijngaard (Limbo, Assassin's Creed), colorist Mary Safro (Drugs & Wires) and renaissance man and Eisner-nominee Hassan Otsmane-Elhaou (Lone Ranger, Shanghai Red) on letters. Additionally, this editions contains all the gorgeous and fun covers of the series by Kris Anka (Runaways), Kevin Wada (Buffy The Vampire Slayer), Chip Zdarsky (Daredevil), Sean Phillips (Criminal), Christian Ward (Thor), Paulina Ganucheau (Xena) and more! All bringing 110% to this series. The next classic text? You be the judge.
This edition will collect the entire series in a high quality hardcover with pages measuring 7.2 by 11.2 inches. Readers can marvel at Wijngaard and Safro's art at this larger size. And even Ostmane-Elhaou's subtle lettering tricks, especially in the game-changing fourth issue.
Kieron sums it up in short, "This is the superhero comic I'm most proud of. It also has at least three funny jokes. This is all I've ever wanted."
The Peter Cannon: Thunderbolt Oversized Hardcover will be released in September 2019.