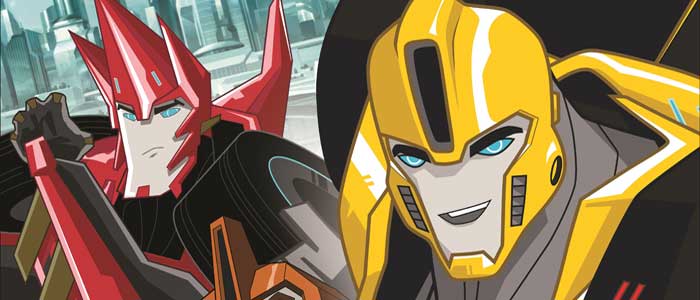 Kabam and Hasbro announced a partnership to develop a massively multiplayer mobile game inspired by the iconic Transformers franchise. The game will deliver action-packed authentic Transformers excitement to fans in 2017.
Over the past three decades the Transformers brand has grown into one of the world's most recognizable franchises, engaging consumers with award-winning television shows, cutting edge digital entertainment series, consumer products, action figures, clothing, live events, blockbuster feature films and more. This new game from Kabam will further expand the brand's growing presence in the mobile gaming space, offering Transformers fans the opportunity to engage with Optimus Prime, Megatron and other popular Autobots and Decepticons in a new, high-definition 3D environment. Kabam's action mobile game also provides RPG and strategy elements in a unique Transformers experience for fans and gamers alike.
"The Transformers are loved by consumers around the world and we are thrilled to partner with Hasbro to bring the brand to life with this new mobile game," said Kent Wakeford, Chief Operating Officer of Kabam. "Kabam strives to develop mobile games that offer players years of entertainment and the Transformers' many colorful characters will allow us to deliver on that goal. We are working with Hasbro to create a gameplay experience that fans will want to interact with over and over again."
Kabam has a reputation for translating the world's largest brands into successful, groundbreaking AAA mobile games, making it a well-suited partner for the multi-billion dollar Transformers franchise
"Hasbro is committed to creating authentic Transformers experiences on every platform where fans have a presence and this partnership with Kabam is the latest step in our ongoing commitment to delivering, rich, engaging stories in the mobile space," said Mark Blecher, Senior Vice President, Digital Gaming and Corporate Development at Hasbro. "Kabam is a leader in developing mobile games inspired by popular franchises, and its expertise will help us create a game that thrills long-time Transformers fans and newcomers alike."
The Transformers mobile game will be developed by Kabam Vancouver, the studio who created Fast & Furious: Legacy and Marvel Contest of Champions, a top 10 grossing game on the App Store.
"The Kabam Vancouver team is filled with Transformers fans and we are beyond stoked to help create a unique mobile game set in this awesome universe," said Tim Fields, Senior Vice President and General Manager for Kabam Vancouver. "Our fans can expect incredible visuals, action-packed gameplay, deep RPG elements, and an immersive world that is truly 'more than meets the eye.'"