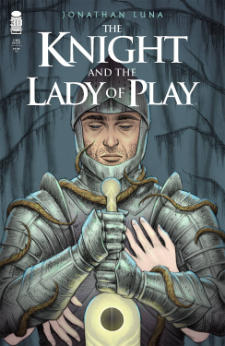 Bestselling creator Jonathan Luna (The Phalanx,20XX: Transport) returns with another highly anticipated story in the upcoming, The Knight and the Lady of Play. This one-shot is set to hit shelves this November from Image Comics.
Set after a war with demons, The Knight and the Lady of Play follows knight Signore Vincenzo as he travels home to his wife in Italy. In a swamp, he comes across a mysteriously hypnotic woman, Motta, who tempts him to stay with her.
"I'm excited, not only to release my first work of dark fantasy, but also to create it, drawing on paper again. These are my first non-digital comic-book drawings since The Sword," said Luna. "Also, I will be using just graphite—not ink. Of all my books, this will look the most different."
Eric Stephenson, Publisher at Image Comics, added: "Working with Jonathan and watching him develop as an artist and a storyteller over the last 20 years has been a real pleasure. And the one-shots he's been releasing over the course of this year have been a lot of fun, but this latest effort took me by surprise—just the best kind of progression from his previous work and something that makes me excited to consider what his next full-length project will look like!"
The Knight and the Lady of Play one-shot will be available at comic book shops on Wednesday, November 2. The Knight and the Lady of Play will also be available across many digital platforms, including Amazon Kindle, Apple Books, and Google Play.