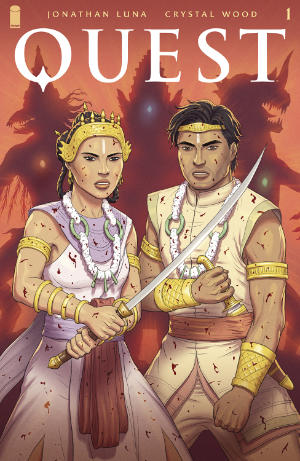 Writer/artist Jonathan Luna (The Sword, Alex + Ada) returns for an ongoing fantasy series with writer Crystal Wood (The Black Ballad) in the upcoming Quest. This all-new ongoing series is set to launch in August from Image Comics.
In a land inspired by Southeast Asia, Princess Anya's new husband Prince Devyan is violently abducted by three giant demons at their wedding. Anya sets out on an epic journey with a growing band of loyal warriors, crossing deadly landscapes and battling horrifying demons. What will she sacrifice to save the man she loves?
"One of my childhood movies is Clash of the Titans(1981), and for such a long time, I've wanted to create a story that was inspired by it. I don't want to ruin how exactly, but, in Quest, Anya goes on an arduous journey into a deadly land of demons to save Devyan," said Luna. "And making this fantasy world inspired by the mythologies, landscapes, and architectures of Southeast Asia is what solidified my moving forward with this concept. It was the final main ingredient to the recipe that's been marinating in my brain for decades. I'm super happy to have found Crystal to create this horror-filled, yet beautifully romantic epic with. I hope that Quest will be a series that readers will enjoy and love!"
Wood added: "My favorite thing about Quest is how deliciously horrifying and twisted the creatures in the story are. It's the kind of comic I always dreamed of creating as a kid. But the immersive imagery, the fast paced energy, and badass monsters are just perks. The love for these characters is what will pull readers into the Demon Lands with us. The heart of it has always been about perseverance and true love. When I got onboard, I had no idea how epic this story would become, and Jonathan's artwork and storytelling take it to another level. Quest speaks to the struggle between what's logical and what feels right in your heart. This project is something truly unique and that's exceedingly rare these days. I can't wait to show everyone how it ends."
Quest #1 will be available at comic book shops on Wednesday, August 2. Quest will also be available across many digital platforms, including Amazon Kindle, Apple Books, and Google Play.