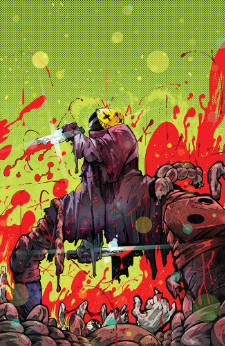 This special issue includes art from Martin Simmonds (The Department of Truth), Josh Hixson (Batman/Fortnite: Foundation), and more. This special collector's item also reprints the debut of Killboy, Tynion's original character with Batmancollaborator Ricardo Lopez Ortiz.
For fans that can't get enough Razorblades thrills, Tynion IV will also team with Steve Foxe (Party & Prey, TKO's Tales of Terror) to bring the entire terror sensation so far to Image. It will be collected into a deluxe hardcover format and hit shelves on the same day, Wednesday April 27.
Razorblades: The Horror Magazine features nearly 400 pages of chills and thrills from some of the most cutting-edge names in the genre. From monsters in the closet to bodies stuffed into washing machines, Razorblades redefines horror comics for the next era. This hardcover will also feature prose, illustrations, and in-depth interviews with horror icons like Scott Snyder.
Razorblades: Small Cuts Special #1 will be available at comic book shops on Wednesday, April 27.  Razorblades hardcover edition will collect Razorbladesissues #1-5 and be available on Wednesday, April 27, 2022 and in bookstores on Tuesday, May 3, 2022. Razorblades will also be available for purchase across many digital platforms, including Amazon Kindle, Apple Books, and Google Play.