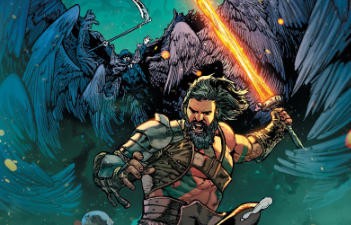 Image Comics and Skybound Entertainment will launch a five-issue, limited comic book series, SKYBOUND X. This exciting comic event will feature iconic characters such as THE WALKING DEAD'S Rick Grimes, TELLTALE'S THE WALKING DEAD's Clementine, and more Skybound favorites. Heavy hitter creators including Robert Kirkman, Ryan Ottley, Tillie Walden, Donny Cates, Joshua Williamson, Chip Zdarsky, James Harren, and Daniel Warren Johnson will contribute stories from the best Skybound series past, present, and future.
Each oversized, weekly issue will kick off with a chapter from RICK GRIMES 2000, a story originally introduced in the back of THE WALKING DEAD issue 75 and reuniting the INVINCIBLE team Robert Kirkman and Ryan Ottley. In addition, all-new series with brand new comic book characters will debut throughout. The first new comic book character featured will be Clementine, the star of the bestselling video game TELLTALE'S THE WALKING DEAD. SKYBOUND X will also include new stories from the worlds of ASSASSIN NATION, EXCELLENCE and MANIFEST DESTINY.
"Surprise! Did you REALLY think we would let Skybound's ten-year anniversary pass us by without bringing back some of our favorite characters?" said Kirkman. "We are forever thankful for our community's support over the past decade and are honored to share this special series with the larger Skybound family. None of these characters have such monumental journeys without the fans, so SKYBOUND X is for all of you!"
SKYBOUND X will be available at comic book shops and digital platforms including Amazon Kindle, Apple Books, comiXology, and Google Play, starting with issue #1 on Wednesday, July 7, 2021.