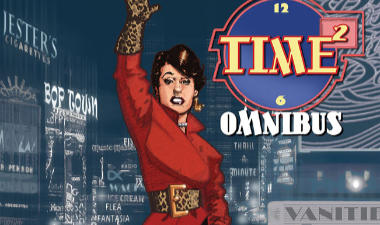 Graphically experimental, narratively daring, and visually explosive, Howard Chaykin's Time² was a work ahead of its time2—and remains so today.
In February 2022—just in time2 to celebrate the project's 35th anniversary—fans will be treated to the long-awaited conclusion—finally!—in a special omnibus hardcover edition from Image Comics.
In addition to remastered versions of the project's debut in the American Flagg! Special and its long-out-of-print first two volumes, "The Epiphany" and "The Satisfaction of Black Mariah," the Time² Omnibus completes the trilogy with the new 48-page volume "Hallowed Groundº," plus many never-before-seen extras.
"Time2 remains among my most personal works in my fifty plus years in comics, and I couldn't be more grateful to see it back in print, with this final volume, before I take the midnight subway to its final destination," said Chaykin.
Time² omnibus hardcover edition will be available on Wednesday, February 16 and in bookstores on Tuesday, February 22. Time² omnibus will also be available for purchase across many digital platforms, including Amazon Kindle, Apple Books, and Google Play.