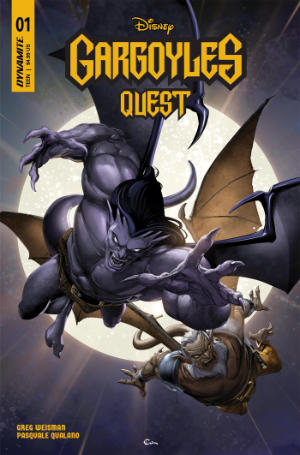 This January, Dynamite invites readers to tune into the next epic chapter in the Gargoyles saga from franchise creator Greg Weisman. Gargoyles Quest begins the early celebration of the 30th anniversary and sets up even more to come.
Readers saw the return of Demona in Gargoyles #7, hotly anticipated as one of the most beloved characters — especially for her complicated backstory, which Gargoyles: Dark Ages also delves into. Now back on the scene, she has one maniacal mission in mind. If she's able to take possession of the fabled "New Keys to Power," a set of ancient, magical artifacts, she will be granted with unimaginable and horrific powers.
This evil quest of hers will be resisted by her former partner in power and love, Goliath, the Manhattan Clan's powerful leader. Of course, Goliath will have the support and backup of the clan; beloved warriors of the night like Hudson, Brooklyn, Lexington, Broadway, and he and Demona's daughter, Angela. Their pursuit will be trying, as Demona somehow manages to always stay one step ahead of them. For this next unbelievable chapter in the tapestry, will the Gargoyles be able to put a stop to Demona's crusade?
Writer Greg Weisman added, "We all know Demona has it out for the human race, so the big question isn't, 'Why does she want the Three New Keys to Power?' but 'How is she going to use them to destroy her perceived enemies, i.e., humanity?'"
Weisman continues spearheading the franchise he previously brought into the world, across the original TV show and now coming up on nearly 40 issues of comic books. Fans may also know Weisman's work from Young Justice, The Spectacular Spider-Man, and other projects across animation, comics, and beyond. He's joined for this special event tale by artist Pasquale Qualano, a top talent known for titles like Dejah Thoris, Sonjaversal, DC vs. Vampires: All-Out War, and other recent hits starring Vampirella and Red Sonja. Letterer Jeff Eckleberry continues providing a consistent, quality look across many of Dynamite's Disney titles.

To deliver the perfect package for readers and collectors, editor Nate Cosby has brought in top talents for heavy-hitting covers on the series. Clayton Crain's unique style is the perfect fit for the Manhattan Clan, capturing their nighttime setting and powerful figures. Jae Lee and colorist partner June Chung are back, following their run on the preceding flagship series. Lastly, Dark Ages interior artist Drew Moss continues his contributions with covers in the hit "color bleed" style. Each variant on the series also features cardstock covers.

Fans will not want to miss this tale, and they can jump right into it, as Weisman delivers one of the most thrilling arcs in Gargoyles history… and leads to even bigger events!

GARGOYLES QUEST #1 is slated for release in January 2023. It will be available at comic book shops and through digital platforms courtesy of Comixology, Kindle, iBooks, Google Play, Dynamite Digital, ComicsPlus, and more.