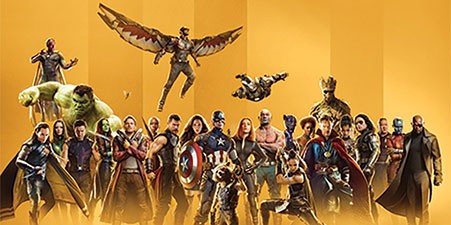 Marvel Studios' 10th anniversary began with the release of Avengers: Infinity War and covers an impressive decade of Marvel Studios' blockbusters released from 2008's Iron Man through the Avengers untitled film in 2019. FYE, for your entertainment, is delighted to announce a new line of exclusive products to help celebrate Marvel Studios' 10th Anniversary so you can be "More than a fan".
FYE has created high quality, one of a kind exclusive apparel for the superfan, featuring vibrantly colored gold graphics of the heroes from the Marvel Cinematic Universe. These include a Marvel Studios 10 New Era flat bill cap with an adjustable snapback to fit multiple sizes, an exclusive t-shirt featuring the Marvel Studios 10 graphic on a full velvet patch on the front, and an exclusive sock box with anniversary packaging and 10 pairs of unique Marvel socks. Fans can also curl up with an exclusive super soft throw which features the Marvel Studios 10 graphic from corner to corner on a 50″ by 60″ blanket.
FYE has worked closely with Marvel Studios to bring you a balanced breakfast worthy of a Super Hero. FYE will bring three new exclusive cereals to stores this fall.  Celebrate the day with Marvel Studios 10th Anniversary Golden Crunch Cereal. Be a Merc with a Mouth full of Deadpool's $&!#% Flakes Cereal. Eat like a king with Marvel's Wakandan Crunch Cereal. These collectible cereals are the perfect gift for any Marvel fan – get one to eat and one to keep on your shelf.