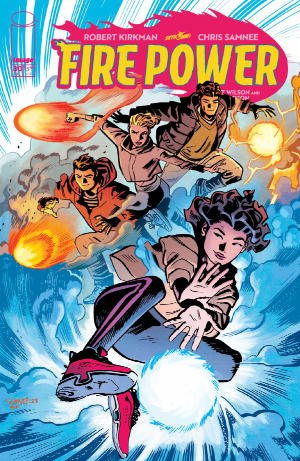 Skybound announced that the acclaimed and long-running series Fire Power by Kirkman & Samnee will come to a close with its 30th issue later this year. The comic series from the legendary team of creator/writer Robert Kirkman, creator/artist Chris Samnee, colorist Matthew Wilson and letterer Rus Wooton will see its series finale arrive in comic book shops on December 27, 2023.
Fire Power will end with a supersized 56-page final issue, which promises a finale worthy of the high-octane series made by some of the top talent working in comics today.
Losing his parents. Training at the Temple of the Flaming Fist. Learning the fire power. Starting a family. Owen's whole life has been building to this moment, where he attempts the impossible one last time.
"It's all been building to this. From the humble beginnings of Owen's journey for the truth about his parents, to a world-spanning battle with a gargantuan ancient evil that threatens to destroy the world," co-creator & writer Robert Kirkman interjected. "It's been a real thrill to work with Chris for these last few years, building this world and working toward this dramatic conclusion. I can't believe we're finally here! I can't wait for people to see it!"
"It seems like only yesterday I was designing the dragon and Robert was telling me not to show anyone because it would be many issues until it was confirmed that the dragon was even real!" Added co-creator & artist Chris Samnee. "Now I'm drawing page after page of flattened cities as mass chaos. I never knew the scale of this book would change so much! The ending of this series is definitely going to shock people."
In addition to the main cover drawn by Chris Samnee and colored by Matthew Wilson, Fire Power #30 features an open-to-order variant cover by Cliff Chiang (Wonder Woman, Paper Girls) featuring the entire fire power wielding Johnson family.
Fire Power by Kirkman & Samnee #30 will be available at comic book shops and digital platforms including Amazon Kindle, Apple Books, comiXology, and Google Play on Wednesday, December 27, 2023.