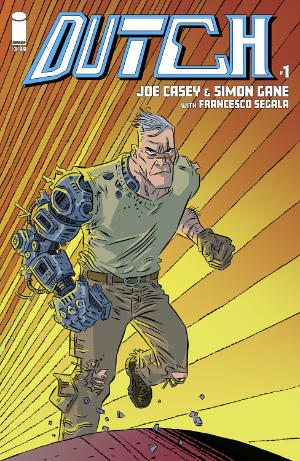 The action-packed Dutch #0 prologue by fan-favorite writer Joe Casey (JesusFreak, Butcher Baker, The Righteous Maker) and artist Nathan Fox (The Weatherman, Dark Reign: Zodiac, Dogs of War) provides fans with a taste of the eye-popping, jaw-dropping new direction to come. Next, Casey will join forces with artist Simon Gane (Sunburn, Paris) to bring fans even more Dutch thrills in an all-new upcoming adventure from Image Comics in February 2024. 
From the exciting prologue will spring forth the new Dutch, a three-issue miniseries, which will usher in the return of Chap Yaep's iconic, golden era Image Comics character of the same name. This new Dutch launch will also feature an exclusive variant cover by legendary Dutch creator Yaep himself.
"As soon as I read Joe's script for Dutch, I wanted to draw it," said Gane. "It's literally explosive from the start and manages to be both bombastic and deft throughout, and so much fun! He's cooking alright. Like a Michelin-starred chef with a flamethrower."
In Dutch, the classic '90s super-soldier returns. An enemy from the past has forced Dutch back into the belly of the beast—but will his former teammates welcome him back? Or will a cybernetic kill team get to him first?
Casey added: "Believe me when I say, Dutch #0 is just the beginning. This new miniseries with the great Simon Gane is the next, white-hot phase of something much bigger—maybe the biggest, most expansive story I've ever told at Image Comics. Personally, I can't wait for readers to see the mayhem that Simon and I are cooking up, taking the classic Image action aesthetic and launching it into the next decade!"
Dutch will be available at comic book shops on Wednesday, February 14, 2024. Dutch will also be available across many digital platforms, including Amazon Kindle, Apple Books, and Google Play.