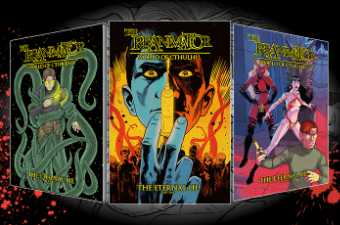 Dynamite announces a brand new prestige Reanimator comic book from creators Cullen Bunn and Blacky Shepherd, connecting the maniacal Herbert West to the wider Cthulhu mythology of H.P. Lovecraft, with a story that serves as a direct sequel to the original short story. Fans can reserve their copy right now on Indiegogo!
Though he's presumed dead at the end of Lovecraft's original tale, nothing can keep the mad scientist Herbert West down. He's back and with his reanimation serum stolen, he must travel to the infamous town of Innsmouth, home to degenerate townsfolk and dark gods alike. This story is full of monsters, scares, and surprises for both longtime Lovecraft disciples and new readers. It will kill off all expectations for what readers think they know about Herbert West, only to reanimate them with something new and terrifying.
"There have been so many incarnations of Herbert West, but we've been given the opportunity to take the character back to formula, if you'll pardon the pun," said Cullen Bunn. "This story finds West in the 1920s, not long after the conclusion of the original short story. From there, we were able to go in some sinister new directions I think readers will love."
Artist Blacky Shepherd added, "As a lifelong fan of the visceral horror that you get with Reanimator, and the cosmic dread of the rest of the Lovecraft mythos, the chance to stitch the two together, as written by one of the Modern Masters of the Macabre was too exciting. This story gives me everything I love in a horror story and dials it up to 13!"
Eisner-nominated writer Cullen Bunn is a master of horror, with the critically acclaimed independent title Harrow County. Other hits of his include stints on Deadpool, X-Men, and his creation The Sixth Gun. Artist Black Shepherd is inspired by such horror comics luminaries as Bernie Wrightson, Jose Gonzalez, and Gene Colan. After a breakout gig working with Cullen, the two have reunited on Pumpkinhead and Vampirella vs. Reanimator at Dynamite, and now this exciting new tale. They're joined by colorist Ellie Wright and letterer Taylor Esposito for this Lovecraftian tome.
Fans can get this 48-page prestige format title with their choice of three cardstock covers. Two are by Shepherd, with one featuring Vampirella and Lady Demon. Comics horror icon Francesco Francavilla is tapped for another, and his is available as a high-quality print. A special combo package is the only way to get a fourth cover by Shepherd, and at an incredible price. Dynamite is also making available CGC graded copies of the comic.
Add-ons and special items that will be exclusively offered on the Indiegogo include a genius custom reanimation formula syringe-looking pen. Perfect for writing your own spooky stories. An exclusive 1.5 inch enamel pin featuring that iconic neon fluid-filled syringe is also available. Plus signatures, sketch covers, and remarks from Blacky, sketch artist Joe DelBeato, or even Cullen himself – is he secretly an artistic prodigy? Fans can add graphic novels to their haul featuring Dynamite's previous tales of the Reanimator, including his last self-titled miniseries and the aforementioned last collaboration of Cullen and Blacky featuring Vampirella and a unique black, white, blood, and yellow serum color palette.
The book has been completely written, penciled, and inked, and is in the process of being colored and lettered now. With the help of fans, Dynamite will be able to bring this project to their collections. And with enough support, perhaps there could be more stories to come? As you can never count Herbert West out and down for the count, when he's got that formula.