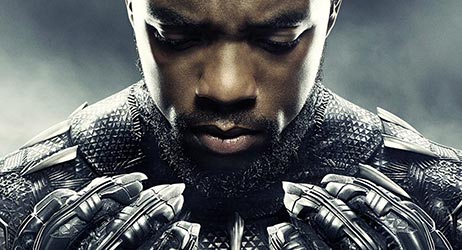 STXfilms announced that Chadwick Boseman, the breakout star of this year's blockbuster hit Black Panther, will star in and produce the studio's upcoming action-thriller 17 BRIDGES alongside his writing and producing partner Logan Coles. Avengers: Infinity War directors Joe and Anthony Russo are set to produce and Mike Larocca will executive produce the film under their AGBO banner. Brian Kirk (Luther, Game of Thrones) is directing the script written by Adam Mervis (The Philly Kid). 17 BRIDGES follows a disgraced NYPD detective (Boseman) who, after being thrust into a citywide manhunt for a cop killer, is given a shot at redemption.  The film will go into production in September 2018.
"STX has assembled a dream team of collaborators on 17 BRIDGES, bringing together the global talents behind two of the biggest action films ever made to give audiences a thrilling new take on the race against the clock crime-drama," said Adam Fogelson, Chairman of STXfilms. "Chadwick Boseman's razor-sharp instincts and undeniable charisma captivated millions of people around the world in Black Panther, and Joe and Anthony Russo have breathed a new energy into the action genre with films like Avengers: Infinity War. Their unique and intelligent approach to filmmaking is anything but formulaic, and with Brian Kirk at the helm directing, this film promises to go beyond the typical popcorn fare."
In addition to Marvel's Black Panther and Avengers: Infinity War, Boseman has also held starring roles in the critically-acclaimed biopics 42, Get on Up and Marshall.  Boseman and Coles are also set to produce the film adaptation of Hakeem Oluseyi's memoir The Stars in My Soul, which has been picked up by Working Title. The duo worked together on 2016's Message From the King, which Boseman starred in and executive produced and Coles co-produced. Boseman is repped by Greene & Associates, Management 360 and Ziffren Brittenham, and Coles is also repped by Management 360.
The Russo brothers are repped by WME, Kirk is repped by CAA, Grandview, Independent Talent (UK) and Gang Tyre, and Mervis is repped by APA, CAA, and Sloane Offer. STXfilms' SVP of Production Drew Simon and Director of Development Kate Vorhoff will oversee the film's production.
17 BRIDGES is the latest in a series of action releases from STXfilms, including upcoming thrillers MILE 22 (Aug. 17), from director Peter Berg and starring Mark Wahlberg and PEPPERMINT (Sept. 7) starring Jennifer Garner. Additionally, STX recently announced new action franchise MUSCLE for Vin Diesel, an untitled Jason Statham project co-produced with Tencent Pictures, KILLER'S GAME, a second Statham film, an untitled action-comedy starring Dave Bautista, and STEEL SOLDIERS the Robert Zemeckis produced sci-fi action feature co-produced with Alibaba Pictures.