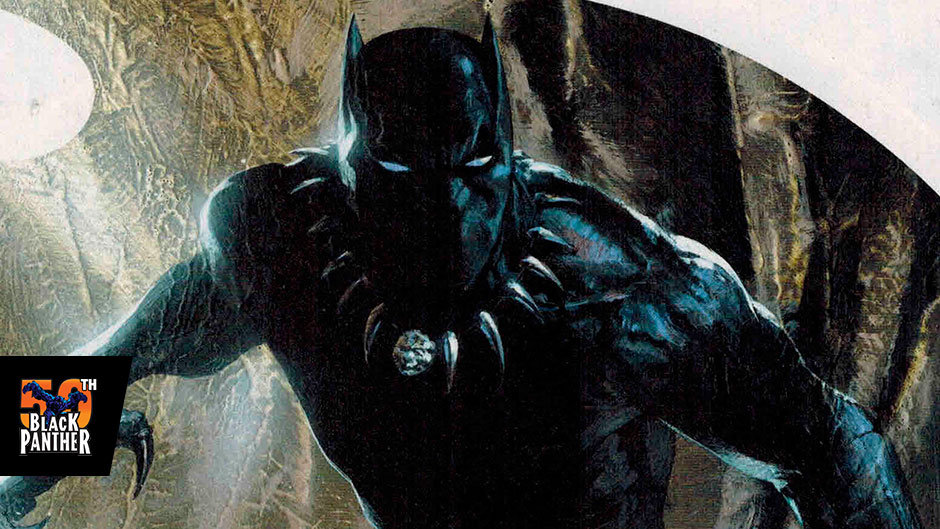 Read through some of T'Challa's most thrilling adventures on Marvel Unlimited to mark Black Panther's 50th anniversary!
As one of the most intelligent and powerful individuals in the Marvel Universe, it came as no surprise when a mysterious individual called on the Black Panther to help figure out who killed The Watcher in ORIGINAL SIN #1 by Jason Aaron and Mike Deodato. While the Avengers ran around trying to uncover why anyone desired to not only murder the cosmic being but also steal his eyes, T'Challa and others headed out in small groups to do the very same.
Teamed with Emma Frost and Scott "Ant-Man" Lang, Black Panther piloted a craft towards the Earth's center that ultimately lead them to a graveyard of horrible monsters, all seemingly shot with gamma-irradiated bullets from the same weapon. At this point, T'Challa wondered if The Watcher died because he'd seen the identity of the shooter.
Understanding that someone might be pulling their strings, Black Panther guided the craft straight up through the Earth's crust into space where they meet with their fellow agents Punisher, Doctor Strange, Winter Soldier, Gamora, and Moon Knight.
Eventually these heroes came to understand why they'd been selected and by whom. Nick Fury, who had been secretly protecting the Earth from alien, subterranean, and supernatural threats in secret, needed to find a replacement because the Infinity Formula that kept him young stopped working.
After Fury revealed these details, T'Challa continued to ask the same question of his would-be predecessor: who killed The Watcher? After several attempts at uncovering the answer, Black Panther and his companions attacked Fury and his assembled L.M.D.s, resulting in an all-out brawl.
Even though he remained understandably upset at Fury, Black Panther still leaped to the ever-aging spy's defense against his Mindless One attackers as a way to make the eye-patched soldier "answer for his crimes.""
As answers came to light and battles ended, the heroes developed a better understanding of what Fury had been secretly up to all of these years and what ultimately happened to The Watcher. However, since Fury's successor never fully revealed him or herself to the group, Black Panther and Doctor Strange agreed that the responsibility should pass on along with the seemingly dead super spy.
T'Challa remained uncertain about all that, though. His last line in the last issue resounded with irony: "Then let us hope that it is actually dead."
Secrets of Wakanda
When we first saw T'Challa in ORIGINAL SIN #1, he's sitting in Necropolis, otherwise known as the Wakandan City of the Dead. Writer Jonathan Hickman introduced the locale in the pages of FANTASTIC FOUR #607 and #608. At that time, T'Challa's sister Shuri had taken over the mantle of Black Panther. The FF traveled to Wakanda by invitation, but soon found themselves attacked by reanimated corpses. T'Challa revealed the place to Reed Richards, noting that he'd never traveled there before. "This is where Black Panthers are laid to rest," he informed Reed before heading in.
Next, the king of Wakanda stands toe to toe against invading Super Skrulls as Jason Aaron and Jefte Pallo bring Secret Invasion to BLACK PANTHER #39-41.
Read More »